Hotels in Athens Greece
Grande Bretagne Hotel
Member of Starwood Hotels, The Luxury Collection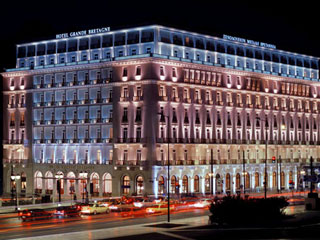 Hotel Grande Bretagne

Grande Bretagne Hotel upon its opening in 1872 offered guests the comfort and luxury one expected to find exclusively in the most elegant estates and palaces of the era. Following a painstaking restoration which took place between November 2001 and March 2003, the Hotel Grande Bretagne once again provides the atmosphere and attentive service found only in the most gracious residences.
The Hotel Grande Bretagne is part of the Luxury Collection of Starwood Hotels & Resorts Worldwide Inc.

Grande Bretagne offers the best location in Athens, within short walking distance from the business center as well as the fashionable Kolonaki Square with exclusive shopping, entertainment, restaurants and cafes. Also nearby are important museums and the historic and picturesque old quarter of Plaka with tavernas, open air coffee shops, flea market and souvenir shops. A large number of rooms offer splendid views of the Acropolis, Parliament and National Gardens.
Hotel's Facilities
Room Facilities
Air Condition with supplement
Bathrobes
Bathroom Amenities
Direct Dial Phone
Hairdryer
Mini Bar
Room Service
Safe Box
Satellite & Cable TV
Slippers
On Site Facilities
Internet access
24h In-Room Dinning
Air Condition
Business Centre
Central Heating
Children Facilities
Cocktail Bar
Conference Facilities
Conference Rooms
Fitness Center
Garage
Garden
Gift Shop
Gym
Hair Salon
Hairdresser
Laundry & Valet service
Pool Bar
Private Buttler Service upon request
Roof Garden
SPA Center
Other Amenities
Athens Concert Hall
Herodio Theatre
International Exhibition Center
Night Life
Shops
Facilities Description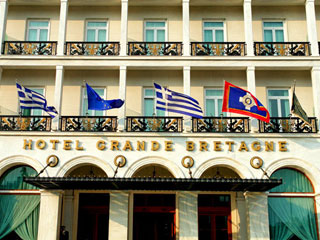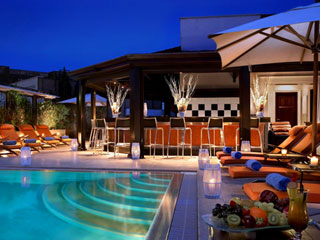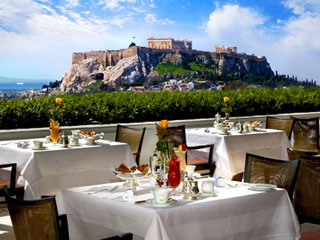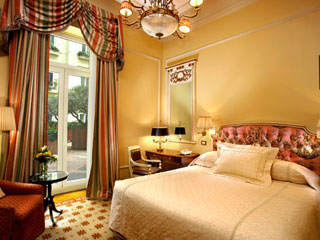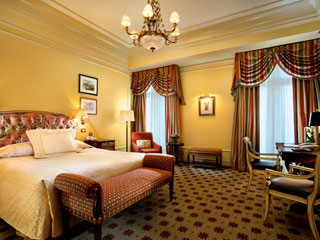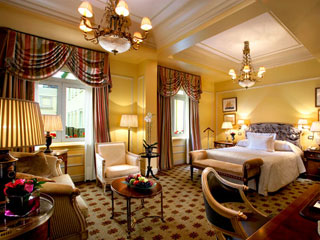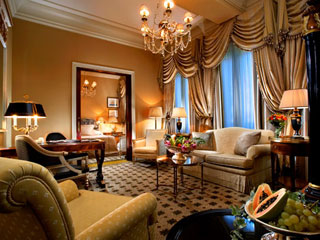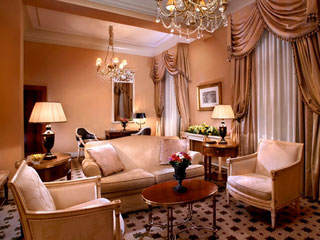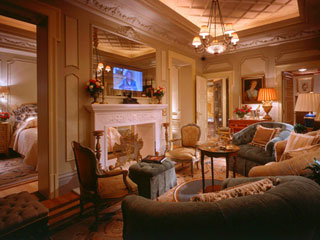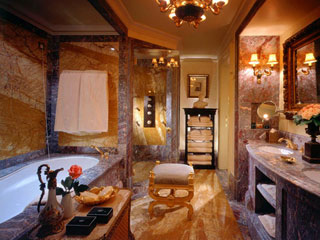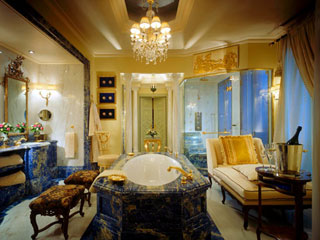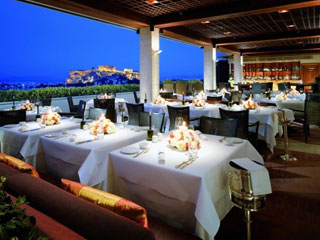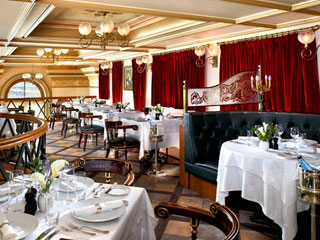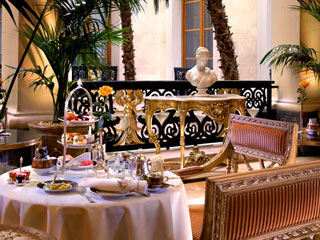 Luxurious fabrics and restored antiques personalize the 321 Rooms and Suites, all recently renovated. Distinctly refined residential elegance is reflected in each of the 59 well appointed suites, while butlers and staff provide unsurpassed service. All rooms and suites offer the finest appointments: the beds are cocoon of pure comfort with multiple pillows and cloud soft douvets, plush bathrobes and slippers the wall-to-wall marble bathrooms are well designed with fog resistant mirrors, quality amenities and lighted magnifying mirrors.
From many of the Rooms and Suites, guests can marvel at dramatic views of the Acropolis and the changing of the quard, at the tomb of the unknown soldier. The bathrooms have been meticulously re-furbished with luxurious marble and are well equipped with deluxe amenities.
Rooms and suites with connecting doors are available.

Grande Bretagne Classic Room-The historic features typical of the classic rooms were meticulously restored during the Hotel's renovation. The warm yellows and reds in the decor reflect elegance and charm. The average size of these rooms, which offer a choice of king, queen, or twin beds is 27 m²/290 ft². Rooms with connecting doors and balconies are available. Guests will enjoy the views of the city or the courtyard from Classic Rooms.
Grande Bretagne Deluxe Room-The special features of the premium deluxe rooms are warm colors, classical furnishings and unique views of the Parliament and Lykabettos Hill. With an average of 33m²/355ft² these rooms epitomize class and sophisticated style. The accommodation offers a choice of king or twin beds.
Grande Bretagne Junior Suite Elegantly furnished in a classical style and accented with antique oil paintings, these rooms vary in size (an average of 44 m²/470 ft²) and layout, typical of the hotel's historic character and unique heritage. The exceptional views of Constitution Square, the Acropolis, or the Lykabettos Hill provide the finishing touches. There is a choice of king or twin beds in this accommodation. The Junior Suite has also a sitting area.

Grande Bretagne Deluxe Suite These suites are graciously decorated in classical style, finished in cream tones and earth colors. They have an average size of 50m²/530 ft², and are comprised of one bedroom and a sitting room. This suite is the ideal place to become your hideaway for a day, a week, a year. Space to live in and to experience the charm of a grand hotel blended with the exquisiteness of a private home.

Grande Bretagne Grand Suite Indulge your taste for the finer things in a luxurious suite, distinguished by generous space (an average of 60 m²/ 860 ft²) and classical style, decorated in warm earth colors. The sleeping quarters in this type of suite are secluded from the living and working areas, ensuring privacy during informal meetings or while entertaining. The bathroom offers ultimate luxury with separate bathtub, steam shower, and bathroom TV. Most of these suites offer views of the Acropolis or Constitution Square. There is a choice of kingor twin beds for this accommodation.
Spa & Pools:
Revitalize your energy in the hotel's fully equipped gym for a perfect beginning to a productive working day. Positioned majestically in Constitution Square, Hotel Grande Bretagne prevails as a timeless masterpiece in craftsmanship and luxury service. Nestled at the heart is the stunning new GB Spa, a new concept in total well-being and the first of its kind in Athens. Cleansing waters, soothing heat, invigorating fitness programs and holistic. Spa treatments all combine to create the philosophy of total well-being.
The GB Corner
Open 7 days a week
Hours of Operation: 12:00 pm - 02:00 am
The most famous "corner" of Athens is back! Elegant with a polished, historic atmosphere and unique gastronomic offerings, the GB Corner transforms lunch and dinner into a special event and a memorable experience.
GB Roof Garden Open 7 days a week/mid May through mid October.
Hours of operation: 19:00 pm - 02:00 am
A roof top restaurant and bar providing an unsurpassed view of the magnificent Acropolis, Constitution Square, the Parliament, National Gardens, the old Olympic Stadium, and an overall breathtaking view of Athens. The eclectic and imaginative menu offers an array choices for dinner, or enjoy the view and cocktails from the bar.
Winter Garden
Open 7 days a week
Hours of operation: 06:30 am - 02:00 am
A tranquil oasis in the center of Athens in the heart of the Hotel Grande Bretagne. The city's most elegant and relaxing refuge for European breakfast, light lunch, high tea and dinner accompanied with live piano music.
The Royal Room
Open 7 days a week
Hours of Operation: 06:30 to 11:00 a.m
Start your day with the extensive buffet breakfast served in this luxurious room.
Alexander's
Hours of operation: 11:00 am - 02:00 am
The unique 18th century tapestry of Alexander the Great is the focal point of Alexander's Bar. With its warm atmosphere and the walk-in cigar humidor, Alexander''s features a unique selection of premium brands, an exquisite selection of cognacs and brandies, and of course, cigars.
Pool Bar-Roof top
Roof top outdoor pool bar open April to October.
Hours of operation: 11:00 am - 19:00 pm
Enjoy a refreshing drink or light snack in this unique pool side bar, tranguil in the loft, rooftop location, high above the chaotic streets below. (Seasonal )
Atrium
Hours of operation: 10:00 am - 18:00 pm
After a high energy workout or a relaxing body treatment in GB Spa, ease back into real life in the beautifully tranquil atrium. Enjoy a variety of freshly prepared juices.
The Cellar
Private dining room open on demand, reservation required. Warm wood and brick original artwork, 17th century furniture and 3,000 bottles of wine await you.
Grande Bretagne hotel Pictures