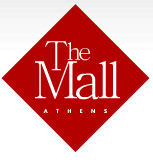 This is the biggest department store of Athens. It is quite new but very popular and during Saturday it is difficult not only to shop but to walk as well since it is so swamped with people.
It houses some of the biggest stores offering everything, from electrical appliances, gadgets, mobile phones, books, clothes, sports equipment, paintings, perfumes and cosmetics and an abundance of restaurants, cafes and bars. The restaurants offer a variety of food, souvlaki, Chinese, burgers whatever your heart desires and there is also a cinema complex where you can watch your favourite movies while you take a break from shopping.
Reaching The Mall is quite easy since there is a train station two minutes walking distance from its entrance. So, taking the train to Nerantziotissa will get you to The Mall in no time. In case you want to go by car there is a gigantic parking lot where you can park your car.
The Mall is really more than just a department store, it is a place where you can spend a whole day doing different things without getting bored.