Hotels in Athens Greece
Arion Astir Palace Hotel
Member of Starwood Hotels, The Luxury Collection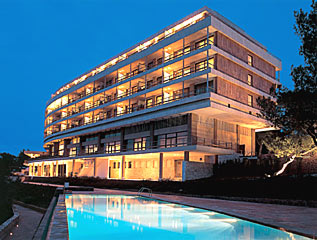 Arion Astir Palace one of the three hotels of Astir Palace Resort, and more specifically, the larger one, which reopened in June 2004 after extensive reconstruction. The hotel is an impressive resort in a unique natural environment with a breathtaking view of the Saronic Gulf and the surrounding islands. It is the hallmark of exclusivity.
The hotel features a prestigious, club atmosphere, in contemporary surroundings enhanced by spectacular views of the sea. Astir Palace is located on Vouliagmeni area and you can find it after a short walk from the main entrance and then to your left. Luxurious rooms and suites delight the senses with an aesthetic touch at every turn, designer furniture, and every convenience for comfort and ease.
Hotel's Facilities
Room Facilities
Air Condition
Balcony
Direct Dial Phone
Hairdryer
Heating
Mini Bar
Radio
Safe Box
TV
Voice Mail
On Site Facilities
Air Condition
Bar
Beach
Central Heating
Conference Rooms
Health Studio
Laundry & Valet service
Restaurant
Room Service
Swimming Pool
Other Amenities
Beach
Golf
Lake of Vouliagmeni
Medical Facilities
Night Life
Shops
Water Sport Facilities
Facilities Description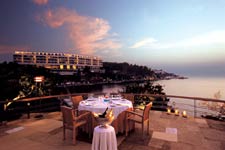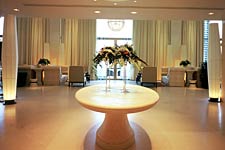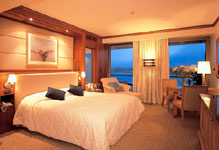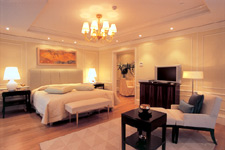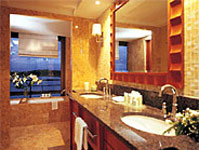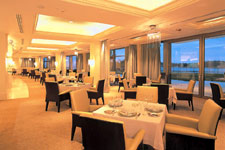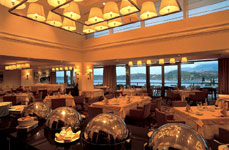 Arion Astir Deluxe rooms Deluxe rooms are approximately 26 sqm and enjoy sea or garden view. These rooms feature contemporary but elegant style furnishing and decor and include luxurious in-room and bath amenities. Bedding type: King size.
Arion Superior Deluxe rooms (41 sqm) provide every comfort for both leisure and business travelers. Gentle color combinations with emphasis on earthly colors, hand-picked textiles, materials and furniture, cosmetics from famous houses, well thought-out lighting that fluctuates according to your personal needs and other elegant details offer the ultimate relaxation in accommodation. Superior Deluxe rooms are available with sea or garden view. Available bedding type: twin or king-size.

Arion Astir Deluxe Suites The comfort and the discreet luxury that characterize all areas of Arion are equally found in their suites. The furnishings and decoration in all these integrated apartments carry the seal of famous designers. The journey begins by opening the double silk curtains that decorate the windows, letting the blue color of the Saronic Gulf inundate your senses. Deluxe suites (54 sqm) feature king-size bed, exceptional office furniture and a comfortable couch, spacious bathrooms with steam bath, double sinks and so on.
Arion Excelsior Deluxe rooms (Average size 26 sqm) Excelsior Deluxe Rooms are available with king-size or twin beds and all enjoy the breathtaking views of the Saronic Gulf. These rooms feature a bedroom area with exceptional décor and fine furnishing. Marble bathrooms are welcoming and capacious, an exceptional combination of style and function which include luxurious amenities from famous cosmetic houses.
Arion Excelsior Superior Deluxe rooms Excelsior Superior Deluxe rooms are larger than Excelsior Deluxe rooms, with an average size of 41 sqm and are designed to provide exceptional standards of comfort for both business and leisure visitors. The spacious and elegant rooms include a sitting-room that complements the styling of the bedroom and together they create a rich and graceful atmosphere. Excelsior superior deluxe rooms overlook the Saronic Gulf and are furnished with king-size beds.
They have a spacious seating room available that includes working desk and charming seats. These traditional features are skilfully combined with the provision of the most modern facilities, including ISDN lines, modem points, voice mail, interactive TV etc.

Arion Excelsior Deluxe Suite Stepping into the Excelsior Deluxe Suite is an experience on its own with its generous 55 sqme of space that serves to enhance the majestic ambience of graceful living that is the trademark of this type of accommodation. All Excelsior Deluxe Suites feature king-size beds, entrance halls, rich carpets, unique and elegant furnishings, beautiful separated seating area, luxurious and modern amenities at every turn, marble bathrooms (with steam bath), and spacious balconies that afford spectacular views.

Arion Ambassador Suite Indulge your self into 82 sqm of classical style allied with luxurious atmosphere and stunning views of the Saronic Gulf. The Ambassador Suite of the Arion Astir Palace is located on the 3rd floor and features unique and elegant furnishings of famous signatures, superb décor, rich carpets in earthly colors, hand-picked textiles, all modern facilities and luxurious amenities, marble bathrooms (with steam bath), private sauna, Jacuzzi and a private balcony.
Astir Palace with a tradition in exquisite and imaginative cuisine, introduces a new world of distinctive dining experiences that will indulge your senses. Guests can enjoy creative gourmet fare and attentive personal service at any of the resort restaurants.
Club House Hanging on the cliff and viewing the sea, the famous restaurant is characterized by its modern decoration with contemporary and stylish furniture. The Club House serves creative preparations of fresh fish and shell fish to the accompaniment of lounge music. It is located 20 meters to the right of the main gate of the hotel complex.

Astir Gourmet Grill Room Located at the lower level of Arion Hotel, The Gourmet Grill Room serves modern French cuisine accompanied by high level of service. The restaurants private dining area Le Prive is the ideal place for dining events of 10 people who wish to enjoy its exceptional cuisine in a more private setting. The Wine Cellar of the restaurant, Le Sommelier features selective wine lists from Greek and International wines ideal for lovers of good taste in all aspects of life.

Alia Brasserie This casual yet elegant all-day restaurant, offers dishes from international cuisine in a luxurious and pleasant atmosphere.
Taverna 37 With the freshness and the atmosphere of Greek traditional tavern, Greek grilled dishes are in charge, always accompanied with fresh salads, ouzo and beer by the beach of Arion Hotel. Taverna 37 is ideal for enjoying a perfect day by the beach!

Sao Restaurant Leading chefs create Polynesian tastes captured by the mood of Asian cuisine. The restaurant is characterised by its contemporary deco and its wooden furniture. Located in Nafsika Hotel, it is the ideal place for a romantic dinner viewing the magnificent sunset.
All day restaurant in a relaxing and casual atmosphere. Enjoy international tastes served by the pool of Nafsika Hotel.
Spilia The mood of Greece and Mediterranean is captured in a tapestry of authentic dishes prepared with imagination and care by the pool of Aphrodite Hotel.
The Excelsior Club with personalized service and private butler, ultra modern Spa, elegant restaurants, as well as wine cellar for private dining are just some of the luxuries you will enjoy at the distinguished Arion hotel.
Arion Astir Palace hotel Pictures