Athens is known around Europe as the city that never goes to sleep. Especially during summer, Athens shows off her temperament and moves to the large clubs by the seaside. Still the centre of Athens has another face: yards, terraces, hidden gardens, retractable roofs. The Greeks won't go home before dawn, on the week days the pedestrian streets and squares are packed with people and on Sunday morning youngsters hit the beach straight from the club. All over Attica, from Voula to Porto Rafti, there are beach parties almost every night.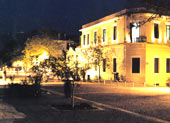 Psiri - Thision
Ex downgraded Psiri, with its old buildings and small artisans' workshops, lies next to Thision area and the Acropolis and is now the nightlife centre of Athens. When it gets dark the pedestrians rule the streets. If you are a night owl, a night in Psiri, beginning at an ouzerie near Platia Iroon and then hitting the bars and clubs in the area like, Thirio , and the always popular Latin club Cubanita.
Aristofanous street is pack with small alternative bars (Aspro a freestyle bar, Astra that is reminiscent of an island barduring August, One Happy Cloud or the trendy designed Vibe Bar).
Gay-friendly Bee next to the Monastiraki metro station extends onto the street out front. On Evripidou Street, privileged Soul bar-restaurant features the most beautiful courtyard of Athens. "Beautiful People" frequent the two levels playing R&B, lounge and electronica. In Irakleidon Street is Stavlos with inside garden and in Agisilaou Street the neoclassical Empleon..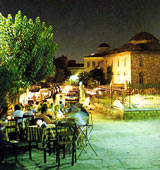 Plaka
The district of Plaka is a gloriously exotic labyrinth of alleys, winding streets and stairs lined with 19th century neo-classical houses and mansions, with beautifully decorated tiled roofs depicting the head of Medusa, goddesses or foliage. This is the old working-class district of Athens but is now one of the most rewarding areas of the city for exploring.
Plaka district is almost completely pedestrianised and contains the famous flea market around Monastiraki Square, ancient sites and small museums of traditional and popular culture. The ouzeries in Plaka are an alternative way to entertainment of Greek youth and adventurous foreigners.
There are some clubs and restaurants on Misicleous Street where you can see Rembetika and Laiko stars during the winter like the Misikleous Music Club on the corner of Lysiou. There is a great Rembetika Club in the Central Market called Stoa Ton Athanaton where you can see some old-time heroes of Rembetika like Takis Benes.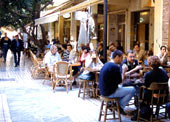 Kolonaki
On the small pedestrian Haritos Street, youngsters, students, and middle aged people make their appointment after work, before the movie starts at cine Athinea or after supper at the nearby restaurants.There you will find tiny bars, but people enjoy their drink, at the street! At Skoufa Street with its small cafe-bars that stay open all day, like "Skoufaki" and "En Delfis" feature a necessary stop after shopping.
Pedestrian Delfon Street (off 62 Skoufa St) becomes very crowded and the gallery-bar restaurant Mommy, housed in a neoclassical building with 60's decor, has a deck out front that attracts hip 30something artists, journalists and the city's trend setters.
The Trendies
By the sea lie the summer super clubs. Most of them feature a swimming pool and have direct access to the beach. Youngsters can dance away the night at Plus 22, Destijl, Galea, Venue, Balux, Envy, Danza, and Akrotiri.
All Greek or international resident DJs come from the house-progressive scene. Some of them feature a fashion mainstream program including potpourri of Greek hits, too. All sorts of parties (Booty call, Kitcherella, R&B), and in general many with innovative-themes ,take place there.
The 30+
For the adult crowd over 30, Athens shows its folklore side. In Gazi, the hip TORA TORA TORA and small open-air Mamaca's is reminiscent of Mykonian bar: Cycladic architecture, a lot of white and good music ranging from lounge to disco and house. Kolonaki's Balthazar (actually located in Ampelokipi) projects the nostalgic image of bourgeois Athens of the past: in the garden of a neoclassical mansion the rich and famous eat good (and a little expensive) food.
Jackson Hall
Maybe the best cafe-restaurant in the town's Center. It has three levels but the tables on the pedestrian Milioni Street are an excellent spot for gossiping and watch people passing by during the day. Classical American tastes, steaks, hamburgers and delicious pasta in an all American interior (authentic memorabilia, baseball cubs, miniature airplanes etc). Has a sister restaurant in Glyfada. Credit cards accepted. You will also find its sister restaurant in Glyfada.
4 Milioni Street Kolonaki tel. 210 3616.098, 3616.546
Local
With its summer attitude on, Local welcomes you to its magnificent garden, a chill-out oasis of conveniently sparing furnishing in bright and warm colors. The style, classical and contemporary at the same time, takes you to an infinite journey of fusion cuisine and "all time" musical selections paths, every Sunday and different bands lift your spirit up, every Wednesday.
Christou Lada & 21 Olympou St, Kifissia, tel. 210 8018.236
Del Mare
A unique summer spot! Feel its thrill as it fills the air of the cafe Del Mare at Porto Rafti. Enjoy relaxing moments by the sea and leave yourself be drifted away by the rhythm. Beautiful cocktails and chill out during the day and as it concerns music, house, funk, acid jazz R&B selections during the night.
Porto Rafti tel. 210 22990 75698
Egomio
One of the most popular cafe bars. For coffee and snacks during the day but mostly drinks at night. It attracts youngsters and yuppies of the surroundings.
10 Zisimopoulou St, tel. 210 8949.454
Theatro
The seductive seascape and the beautiful interior surrounding, call for the hottest spot of the southern suburbs. Fascinating flavors, selective music, performances and live concerts round up a non-stop, all-day but also night long experience.
33 Poseidonos Ave, Flisvos, tel. 210 9836.298
Escoba
Looks like a saloon-bar and the reason is because most professional and amateur riders come here after practice or to celebrate a victory. It also attracts youngsters and yuppies of the surroundings. Offers Tex-Mex cuisine: chili con carne, fajitas, quesadillas and an the famous delicious Escoba Steak.
1 Patr. Naximou & Deliyanni St, Kefalari, tel 210 6233.550
On the Road
Exactly what the name suggests, a small lane of fun between two avenues with traffic jams tacking place in front of the long bar. Orange-yellow decorated oriental sofas, glass tables with sand inside, dozens of lighten candles. The music changes daily.
1 Ardittou St, Mets, tel. 210 3478.716, 3452.502