Greek Coffee Culture & Recipes
Blame it on the sun and the sea. Or the Greek temperament. Whatever the reasons, in Greece the temptation to go out and see people is all-powerful. Few stay holed up at home unless absolutely necessary. They are pulled from their family, work ad student lives as if by gravitational force to the thousands of meeting points that share a single designation: cafeteria.
| | | |
| --- | --- | --- |
| | In Italy, standing patrons at a coffee-bar order a short espresso, drink it, and depart in a matter of few minutes. In the USA, millions order their coffees "to go" in tall paper takeout cups. Greeks sit down for a coffee or an alternative refreshment and stick around for on average 93 minutes. That's not a coffee brake, that's a feature film! | |
Flocafe, the largest Greek chain of cafeterias, recently conducted a survey on Greeks coffee habits. They primary reasons for choosing a cafeteria were threefold: to be around people like themselves, to be seen or people-watch, and to relax. As you can understand the purpose of a cafeteria is less functional that is its social.
In Greece the universal suggestion "pame gia kafe" –"let's go for coffee"- is tantamount to "let's go out", so close are the beverage and the lifestyle linked.
The caffeinated peoplewatching does come with a price. The typical cost for a coffee in Greece can be two or three times what it is in Italy. It is generally understood that the comparatively high price for a hot or cold coffee includes the renting of prime real estate. The Italian who pays 70 cents for the espresso he drinks in two minutes at Caffe Castroni in Rome is paying 35 cents per minute for a narrow plot of a standing space. The Greek who spends 3 Euros for the frappe he sips in 93 minutes at Achillion in Thessaloniki is effectively paying just over 3 cents per minute for a wider patch of sitting space on a comfy chair or cushy sofa. His prerogative to stick around without paying for a refill – Greeks rarely order a second coffee – enhances the value of the rental. The coffee fee, covers the glass of water invariably served with it. Foreign tourists sometimes respond to this courtesy with alarm. At home they are accustomed to paying for everything.
---
…history of cafeterias in Greece
It is a fact that the Greek outlook on foreign customs is a complex, and the external influences can be seen everywhere. In the 1970s the term cafeteria, taken from the Italian similar establishment, got widely adopted in Greece. The prior term for cafes that admitted freely men and women was zaharoplasteio, meaning in Greek "pastry shop".
| | |
| --- | --- |
| The kafenion was the men's coffeehouse, is an altogether Greek institution. You used to see them everywhere, in the main square of every village, in every part of town and at every major city crossroads. Although they may have lost some of their importance nowadays, being replaced by cafeterias, they still exist in the more rural areas, in small towns and on the Greek islands. This is where men meet up to talk about the harvest, complain about a bad crop, or grumble about the failure of Brussels's agricultural policy. Family tragedies and personal crises are discussed alongside with politics. They sit over a cup of mocha coffee, a glass of water, or even a glass of wine or ouzo. | |
The kafenion is likely to be fairly sparsely furnished with simple chairs and tables, yet there is something enduring and timeless about which has remained unchanged despite the great social changes within Greece. The classic kafenion has managed to maintain ir role in Greek life in the dace of the dynamic developments of modern age.
The decline of the kafenio and the rise of cafeteria was connected with the fall of the military Junta in 1974. The cafeteria, borroed aspects from both the male-dominated kafenio and the zaharoplastio. In cafeteria's earliest days, women beginning to make inroads in the job market has some newly earned wages in their purses and felt fine spending some of it, as well as some time, in casual yet inviting cafeterias.
---
Greek Coffee Recipes
…ellinikos kafes – Greek mocha coffee

There are three different ways of preparing mocha coffee: sketos (bitter), metrio (medium-sweet), and glikos (sweet). A varies ghlykos (strorng and sweet) or a ghlykis vrastos (sweet and boiled) can also be ordered. In case a double proportion is needed, then the order should be a ellinikos diplos (double).
---
Greek coffee
Makes 1 serving

1 tablespoon of extra finely ground coffee beans
Sugar (optional)
1 cup of water
To make one cup of mocha coffee you need one teaspoonful of very finely ground coffee beans. Add sugar to taste, then a cup of water, and slowly bring it all to a boil in a special little longhaldled pot, before carefully pouring the coffee into the cup. In days gone by, it was placed in glowing embers to heat up. The coffee sediment must then be given time to settle at the bottom of the cup, a period of waiting which can be filled with cookies and sweet confectionery.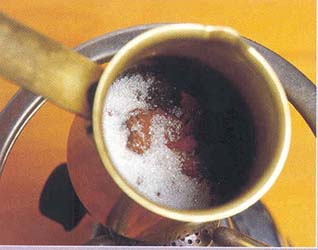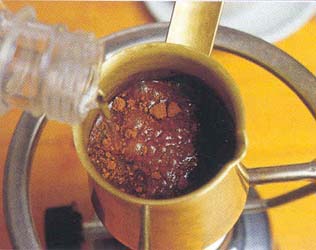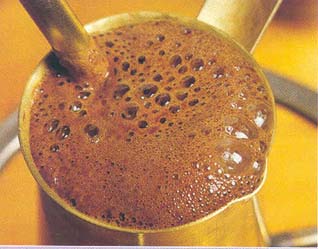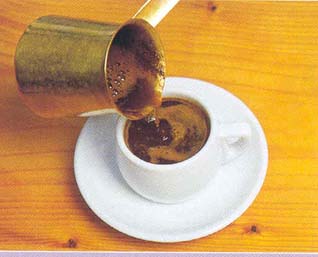 In the 18th century, it was a customary for young men, seeking a girl's hand in marriage, to be served a cup of mocha coffee by her family. This was not simply a symbol of the host's hospitality. If the coffee were sweet, the suitor has every reason to be pleased; of it were bitter, the young man would rise politely, say thank you for the conversation and never be seen again.
---
…Frappe


The name frappe, is French for "hit", "struck", or as applied to the drinks like champagne and coffee, "iced". The brand, NESCEAFE is Swiss and the coffee is African, cultivated in Ivory Coast. Yet NESCEAFE frappe is more Greek than, well, Greek coffee. The traditional Greek mocha coffee originated in the Middle East and until the 1970s in Greece was widely known as "Turkish". But frappe, as recognized and adored in Greece, is a Greek born and primarily a Greek phenomenon inseparable from the country's climate, character and way of life.
---
| | | |
| --- | --- | --- |
| | Frappe was born, according to the urban legend, back in 1957 in the International Trade Fair in Thessaloniki. It has been a sales representative at Nestle exhibit, Dimitris Vakondios, who made this important discovery. Reportedly there was no hot water available, so Vakondios grabbed a shaker meant for Nestles Nesquik chocolate drink, filled it instead with NESCAFE instant coffee and cold water, and shock it vigorously. Vakondios has stated that he finds it difficult to believe how a simple improvised experiment came to establish this most popular of Greek beverages. | |
---
Basic Frappe
Makes 1 serving

2 teaspoons instant coffee
2 teaspoons granulated sugar
Cold water
15-30 ml (1-2 tablespoons) evaporated milk or regular milk optional
I. Place the coffee, sugar to taste, and 60ml (? cup) cold water in a shaker, jar or drink mixer. Cover and shake well for 30 seconds or, if using a standing or hand-held drink mixer, process 10 seconds to produce a thick, light-brown foam.
II. Place a few ice cubes in a tall glass. Slowly pour all of the coffee foam into the glass. Add a little milk, if desired, according to taste. Fill with cold water until the foam reaches the top of the glass. Server with a thin, bendable straw and glass of cold water on the side.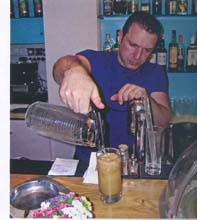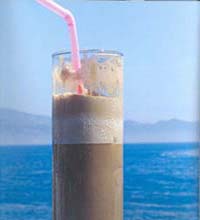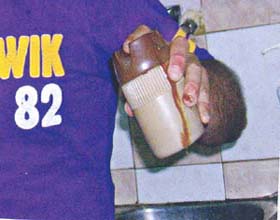 ---
Blender Frappe
Makes 4 serving

3 tablespoons instant coffee
2½ -3 tablespoons granulated sugar
Cold water
65-125 ml (? - ½ cup) evaporated milk or regular milk optional
I. Place the coffee, sugar and 250ml (1 cup) cold water in a blender. Cover and blend at high speed for 20-30 seconds to produce a thick, light-brown foam. Immediately before purring, blend again at low speed for 10 seconds.
II. Place a few ice cubes in 4 tall glasses. Slowly pour the coffee foam, distributing it evenly among the glasses. Add a little milk, if desired, into each glass, according to taste. Fill with cold water until the foam reaches the top of the glasses. Serve with tin, bendable straws and glass of cold water on the side.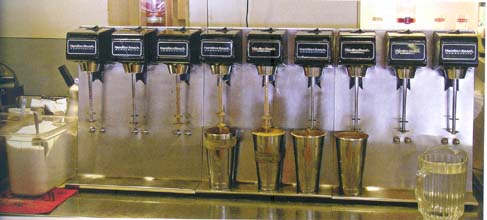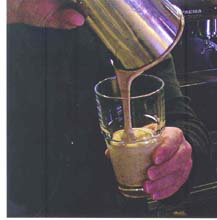 ---
Source & Inspiration
Get more information on Greek coffee and particularly frappe form the book of Vivian Constantinopoulos & Daniel Young Frappe Nation. The interesting investigation of the two authors, written in Greek & English, is accompanied with a rich photo collection. More information & recipes of Greek cuisine can be found at CULINARIA GREECE, a book we highly recommend to everyone interested in Greek cuisine and culture.