Strolling through Athens
The visitor to Athens cannot leave the city without visiting the Benaki Museum, the Museum of Cycladic Art and its unique Cycladic figurines, the relaxing Kolonaki Square and Lycabettus Hill that offers a magnificent view over Athens.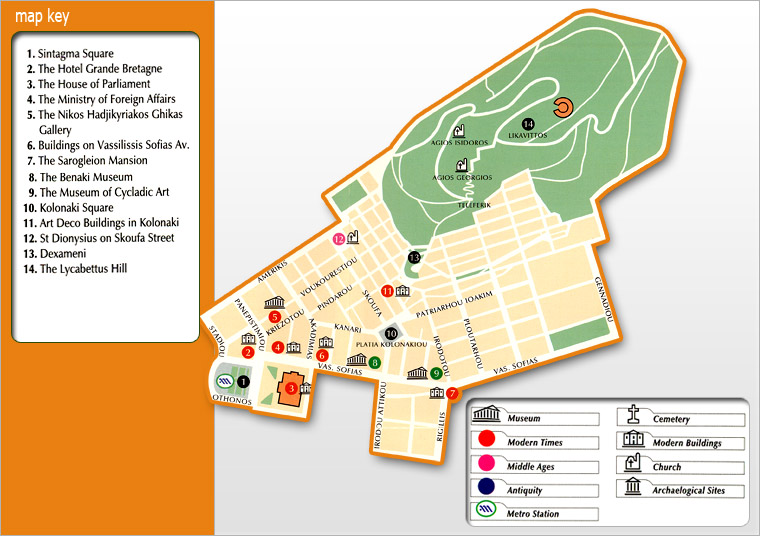 9. The Museum of Cycladic Art
The Museum of Cycladic Art (Neofytou Douka Street) is one of the most up-to-date and remarkable museums of Prehistoric and Ancient Greek art. Particularly interesting is the Cycladic collection, one of the most important collections of Cycladic art in the whole world, which includes marble figurines dating from 3200 BC to the 2000 BC. In the neoclassical Stathatos Mansion, the new wing, temporary exhibitions are held.
8. The Benaki Museum
The neoclassical building (corner of Vassilissis Sophias and Koubari Streets) houses one of the most noteworthy museums in Athens. Its vast collection includes finds from Ancient to early 20th century Greece, as well as historical relics, folk art and a sizeable archive. In different buildings are housed collections of Chinese and Islamic art, as well as a collection of children toys.
14. The Lycabettus Hill
Lycabettus Hill is approximately 300 metres high and can be reached via a circular road, pathways or the funicular. It offers a view over the entire city, therefore it is an ideal spot to take a stroll. On the hill there are two churches: the small church of Agios Isidoros inside a cave at the foot of the hill and the church of Agios Georgios on the top. On the hill, there is also an open-air theatre, which holds various cultural events during the summer.
1. Syntagma Square
Syntagma Square is central to the political and social life of Athens. It is crowned by the building of the Hellenic Parliament. In Syntagma Square is also located the historical Grande Bretagne Hotel. Syntagma Square is also the commercial centre of the city, from one side looking towards Stadiou Street and from the other side towards Ermou Street. During the excavations undertaken while constructing the metro system, many significant archaeological finds were brought to light, some of which are now exhibited in the metro station.
3. The House of Parliament
The Hellenic Parliament is located on the east of Syntagma square, at the junction of Vassilissis Sophias and Amalias Avenues. The parliament building was erected in the mid-19th century as a palace for King Otto and officially introduced neoclassical architecture to Athens. In the Parliament forecourt, is the monument of the Unknown Soldier, guarded day and night by evzones - the presidential guards in traditional uniforms. The imposing, Doric propylon to the west, facing Vassilissis Sophias Avenue, is made of Pentelic marble.