Exploring Athens: The National Archaeological Museum
Nearby Victoria Square, on Patission Street, is located the National Archaeological Museum, the biggest museum of Greece, where one can admire some of the most important finds from Antiquity.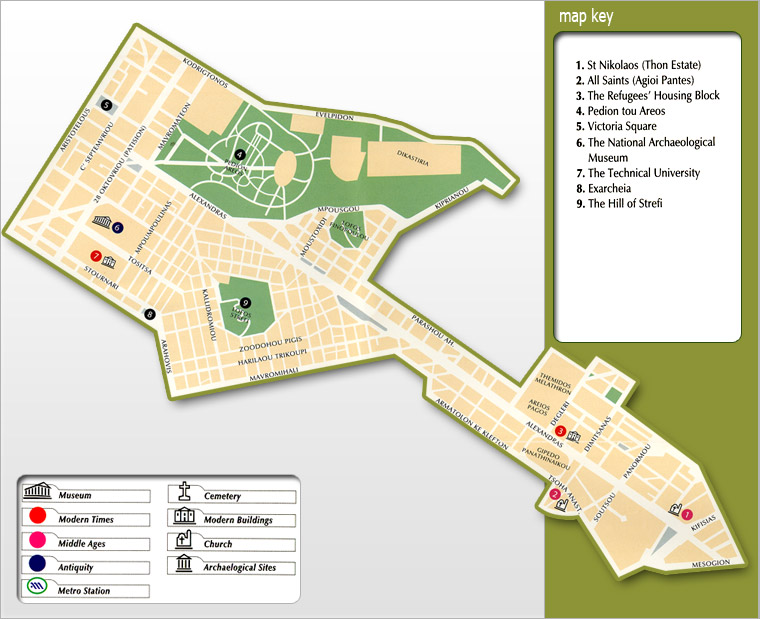 4. Pedio tou Areos
Pedio tou Areos (Mars Fields) is one of the largest parks of Athens. The central alley, the Avenue of the Heroes, is decorated with sculpted busts of the greatest heroes of the Greek War of Independence, while the entrances are dominated by the statues of King Constantine I on horseback and Athena. Its wide tree-lined paths offer a good opportunity to escape the noise and the crowd of downtown Athens.
5. Victoria Square
Victoria Square, named after the queen of England, is one of the liveliest squares of Athens, with a strong multicultural character, since it is a gathering place for many economic immigrants. At the centre of the square there is a bronze complex which represents Theseus rescuing Hippodameia., a work by the German sculptor Johannes Pfuhl.
6. The National Archaeological Museum
The National Archaeological Museum, whose main entrance is on Patission Street, was built in the late 1800s. The architects that were involved were Ludwig Lange, Panagiotis Kalkos and Ernst Ziller. The Museum includes important collections of art from Prehistoric down to late Roman times. Among the most important exhibits are the wall paintings of Santorini, the Death Mask attributed to Agamemnon, ancient kouroi and kores, numerous Classical sculptures, such as the "Youth from Antikythera", "Zeus or Poseidon" and the "Jockey". Recently, an Egyptian collection, considered to be one of the most important worldwide, has been added.
8. Exarcheia
Created between 1870 and 1880, Exarcheia is a traditional alternative district in downtown Athens. It is a meeting point for social and political groups, intellectuals and artists. At Exarcheia Square, one can find one of the oldest summer cinemas (Vox) and the Antonopoulos apartment building or "Blue Building". The "Blue Building", named after its initial color, is a typical example of the modernist movement in the architecture of the interwar period. The nightlife of Exarcheia is vivid, relaxed and laid-back.