Strolling through Athens
No better way to chill out on a hot day than to drink a coffee in the garden of Zappeion or stroll in the alleys of the National Garden. Both are situated in the Roman quarters of the city and, as attested by the inscription on the gate, were built in the time of Emperor Hadrian. Behind the Olympieion, one can get a glimpse of the history of modern Greece through a different, open-air "museum": the city's largest cemetery.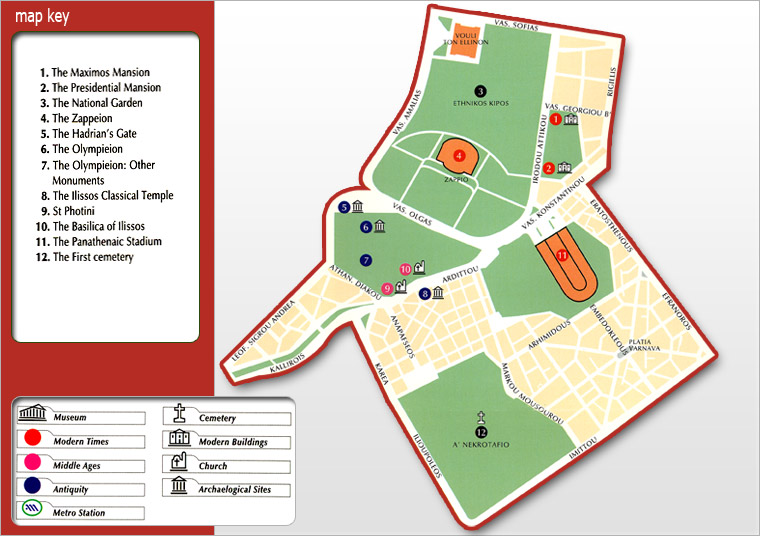 12. The First Cemetery of Athens
At the upper end of Anapafseos Street is the principal cemetery of the city, which is also an important source of Athenian history throughout the 19th and the 20th century. Not only because of the graves of leading historical figures but also because one can admire there several statues by eminent Greek sculptors, such as the Koimomeni (the Sleeping Maiden) by Giannoulis Chalepas and the memorial for the 40.000 who starved to death in Athens during World War II by Kostas Valsamis.
11. The Panathenaic Stadium
The Panathenaic Stadium or "Kallimarmaro", a magnificent Athenian monument, was constructed by the orator Lycurgus in about 330 BC and splendidly restored by Herodes Atticus in the 2nd century AD. The Stadium was also reconstructed for the Olympic Games of 1896. Today, the Panathenaic Stadium serves as the finish of the marathon and is used on special occasions of public festivities.
5-6. Olympieion - Hadrian's Gate
The construction of the temple of Olympian Zeus (Olympieion) began under Peisistratos but remained unfinished until it was completed by the Roman Emperor Hadrian in 132 AD. It was colossal, the largest one in Greece. To honour the emperor, the Athenians erected close to the temple Hadrian's Gate, a triumphal arch. Te gate bears two inscriptions, the one facing the Acropolis reads "This is Athens, the ancient city of Theseus" and the one facing Olympieion reads "This is the city of Hadrian and not of Theseus".
4. The Zappeion
The neoclassical Zappeion Hall, named after the Zappas brothers who financed it, was built in the 1880s as a model exhibition centre. Today it is used for meetings (such as the signing of the Enlargement Treaty of the European Union in 2003), conferences, commercial events and exhibits. The surrounding garden, which links to the National Garden, offers entertainment options such as a cafe-restaurant and the summer Aigli cinema.
1. The Maximos Mansion
The Megaro Maximou (corner of Irodou Attikou and Vassileos Georgiou Streets), a mansion that combines concrete with neoclassical elements, dates from the early 20th century and is situated next to the presidential mansion, across the National Garden. It is the office and the official seat of the prime minister.