Exploring Athens: The City Hall of Athens - Municipal Marketplace
The City Hall is situated on Kotzia Square, which is surrounded by architecturally interesting buildings. In front of it, runs a popular commercial street, Athinas Street, where Varvakeios market, the central open-air market, is located. Ermou Street is another commercial street but with more expensive and luxurious products. Kapnikarea Church and St Eleutherios, just next to Athens Cathedral, are worth a visit, too.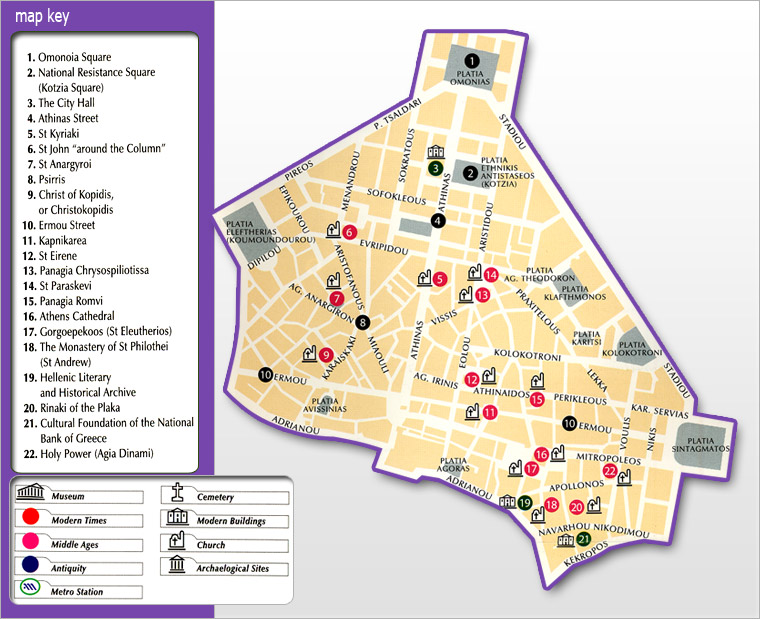 3. City Hall
The neoclassical City Hall, designed by Panagiotis Kalkos and completed in 1874, is situated on Kotzia Square, a cobblestone square which is surrounded by beautiful neoclassical buildings. After several renovations, it was restored back to its original state in the 1990s. Inside, there are frescoes by the leading artists Fotis Kondoglou and Georgios Gounaropoulos. It also houses a valuable art collection.
4. Athinas Street
The multicultural Athinas Street is one of the oldest commercial streets of Athens. In the past, it was full of hotels, shops and private dwellings; today, it hosts two large open-air markets (Varvakeios and Lachanagora), where one can find vegetables, fruits, meat and fish. The lively, noisy, crowded markets give a particular flavor in the street, which is enhanced by the ironmonger and tool shops. Behind Athinas Street, around Theatre Square, immigrants of various nationalities have opened ethnic shops and restaurants.
8. Psirris district
Psirri is one of the oldest districts in Athens. Originally, it was a low-class neighborhood with many small-industry workshops. Today, it presents a totally different aspect: though there are still elements that remind of the past, Psirri is full of bars, restaurants, clubs, art galleries and theatres and has become one of the hot spots of the Athenian nightlife.
10. Ermou Street
Ermou Street is the main commercial street of Athens. Its creation took place in the 19th century and it was planned to be a commercial street right from the beginning - hence the name Ermou, from Hermes, the ancient god of trade. Today, Ermou, pedestrianized in its biggest part, is a major commercial street and a favorite spot for strolling or window-shopping.
11. Kapnikarea
Kapnikarea is a minuscule church in the middle of Ermou Street and one of the most noteworthy of Athens' Byzantine churches. It was built in the mid-11th century in cruciform pattern with a dome. It is dedicated to the Presentation of Virgin Mary to the Temple. It was nearly demolished twice, but today it belongs to the University of Athens. The paintings are by the Greek artist and hagiographer Fotis Kondoglou.
16. The Athens Cathedral (Metropolis)
The Athens Cathedral, dedicated to the Annunciation of Virgin Mary, was completed in 1862 after twenty years. Four architects were involved in its construction: Theophilus Hansen, Demetrios Zezos, Francois Boulanger and Panagiotis Kalkos. The expenses were covered by Church property and by donations - mostly by king Otto and the Sinas family. The Cathedral is a three-aisle basilica but, due to the continuous stylistic changes, does not have a distinct architectural character.
17. Gorgoepekoos (St. Eleutherios)
The Byzantine Church of Panagia Gorgoepekoos is located next to the Athens Cathedral and dates from the late 12th century. Built on the ruins of an ancient temple, it is a cruciform-style domed church from Pentelic marble, with reliefs from ancient monuments. After the War of Independence, it was renamed Aghios Eleutherios and for some period served as the National Library.