Exploring Athens
Several small but interesting museums can be found here, like the Children's Museum, the Jewellery Museum, where there is an exhibition of artifacts by the famous designer Ilias Lalaounis, the Museum of Folk Art and the Jewish Museum. Here we also find the Russian and Anglican Churches. Undoubtedly, this is a culturally rich area.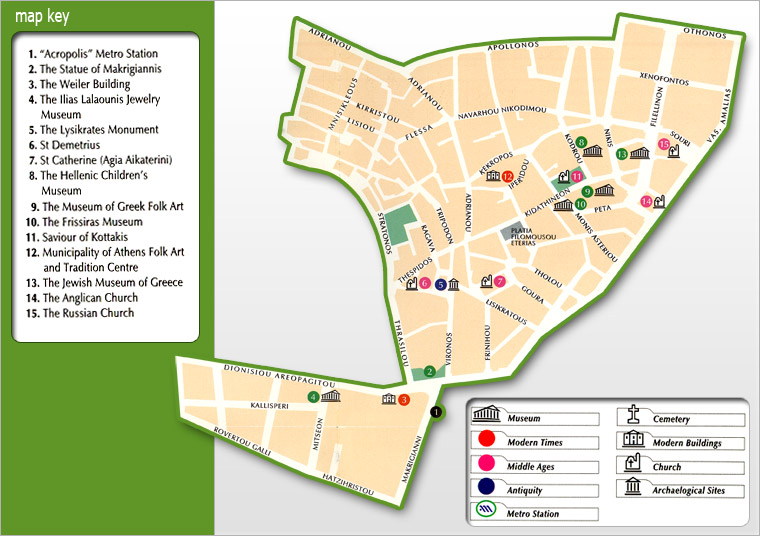 3. The Weiler Building
The Weiler building (corner of Makrigianni and Dionissiou Areopagitou Streets) was built in 1834 by the Bavarian architect Wilhelm von Weiler and is the oldest building still surviving from the beginning of monarchy. Started as a military hospital, then served as police headquarters and today it houses the Acropolis Study Centre.
5. The Lysikrates Monument
The monument of Lysikrates, the best preserved choregic monument, is located in Lysikratous Square in Plaka (corner Shelley and Epimenidou Streets) and was built in 334 BC by Lysikrates - the year he won as a choregos in the drama contests of the Great Dionysian Festival.
9. The Museum of Greek Folk Art
The Folk Art Museum in Plaka (17 Kidathinaion Street) presents the history and development of Greek folk art. Its exhibition includes embroideries, pottery, silverware, works of the painter Theophilos Hatzimichail, traditional Greek costumes and shadow-theatre puppets (Karaghiozis).
13. The Jewish Museum of Greece
Greece's Jewish Museum is housed in a neoclassical building at 39 Nikis Street and is one of the most important of his kind across Europe. It was founded in order to study, preserve and present evidence relevant to the Jewish community of Greece. The museum holds permanent collections but also organizes temporary exhibitions.
14. The Anglican Church
The Anglican Church (corner of Philellinon and Vassilissis Amalias Streets), designed by the Danish architect Christian Hansen in a prosaic neogothic style, is dedicated to Saint Paul and was inaugurated in 1843. It is the main church for the Protestant community of Athens.
15. The Russian Church
The Russian Church (corner of Philellinon and Amalias Streets) is one of Athens' most important Byzantine monuments. Originally called Sotira Likodimou, it was built in 1031 but got damaged in the course of time. It was repaired in the 19th century by Czar Nicholas I. Czar Alexander II was the one who donated the freestanding bell tower. Though originally dedicated to Virgin Mary and then to the Holy Trinity, the Russian involvement in its repair and its use by the Russian community gave it its popular name. Even in our days, the Russian church dominates the area in terms of size and quality of construction.