Exploring Athens: A different walk in Athens
Peiraios Street is the street that, since antiquity, links the city of Athens with its port. At its start is the Municipal Gallery, in the building of the old municipal nursery. Further down one sees a series of cultural centers that are housed in former industrial buildings: the Technopolis in a former gas factory, the Melina Merkouri Cultural Centre in the Poulopoulos hat-making factory, Hellenic Cosmos in the former Viosol metal processing factory.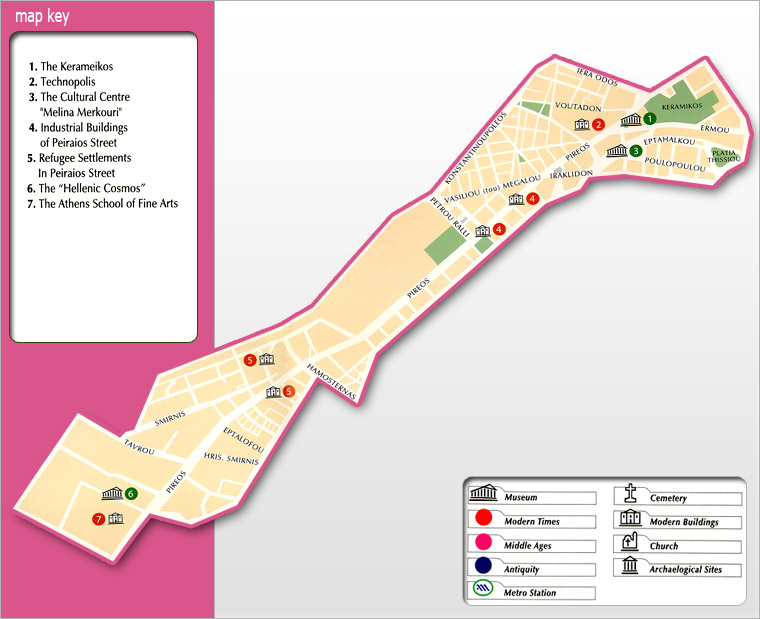 7. Athens School of Fine Arts
The School of Fine Arts is housed in "Sikiarideio", a complex of industrial buildings that used to belong to Hellenic Textiles SA. Many important Greek artists have studied and taught at the Athens School of Fine Arts. The neoclassical buildings are not completely preserved but one can still see their monumental entrances. They are arranged in a ?-shaped complex forming a yard towards Peiraios Street.
3. Melina Merkouri Cultural Centre
The Melina Merkouri Cultural Centre is housed in Poulopoulos building, the former Poulopoulos hat factory. This stone building was designated an historic monument and given to the Municipality of Athens in 1985; since then, it has been used as a cultural centre, hosting temporary exhibitions, events and concerts. The permanent exhibition 'Travelogue of Athens' represents Athens of the early 20th century.
6. Hellenic Cosmos<
Hellenic Cosmos (254 Piraios Street) is the cultural centre that belongs to the Foundation of the Hellenic World (FHW). The center opened in 1998 at the former factory of Viosol. Over the years, it has expanded and developed into a multifaceted cultural centre, which presents FHW projects relating to Greek history and culture. The virtual reality devices "Tholos" and "Kivotos" are also found there and they offer a unique journey to visitors, who can travel through time and space and experience Greek history and culture in a unique, original way (e.g. "A Walk in Ancient Agora" or "A Walk in Ancient Olympia").
2. Gazi Technopolis
Tecnopolis (Art City) is housed in a series of buildings of a gas factory that was working from 1862 to 1983. After closing, it was classified as a "heritage industrial site" and was restored. The buildings retained their industrial features and some of the industrial equipment. Technopolis hosts cultural events, concerts and exhibitions organized by the city of Athens.