Athens NightLife - The "Bouzoukia"
If there is one thing Greeks pride themselves on, it's their ability to have a good time. Entertainment in Greece is combined mainly with going out at night, and particularly for the Athenians nightlife is sacred. They are fond of comparing their city's night scene with New York, Paris or Amsterdam and they believe that it surpasses them.
"Athens is the city that never sleeps"

Athens by Night


This is what every resident of the city thinks and it is, actually, a fact! Nightlife in Athens gets going after midnight and keeps going until dawn. It is quite interesting fact to mention that some years back, a governmental law tried to impose stricter closing times to nightclubs (closing at 3 am) to boost the country's productivity, but the a virtual rebellion put a stop to that and Athenians could keep on partying happily all hours.
Another unique phenomenon of Athens nightlife - that could even make this city the subject of a sociological survey - is the number of nightlife venues you'll find. It's certain that there is no other place in the world with so many cafes, bars, theatres, restaurants, discos and clubs in such a small area, in many cases one next to the other! But if we had to make a distinction between the venues that Athenians choose for their entertainment, if we had to name the queen of the Athenian nights, it wouldn't be hard;

Bouzoukia- this is where the majority of the Athenians enjoy most going, at bouzoukia Athenians spend more money than anywhere else, at bouzoukia you will find customers from different social backgrounds mingling and celebrating together, to sum up, at bouzoukia one can intensively feel a fatalistic Balkan sensibility: that destruction and death may well come tomorrow so it's best to live it up to the dizzying heights of tonight.
---
| | |
| --- | --- |
| Thinking of Greek Music the first thing that may come to your mind will be the bouzouki (Greek μπουζούκι). This music instrument has been combined with history of Balkans, and particularly Greece, for many years and is part of its traditional music. The music and the clubs that play it, are referred to as bouzoukia (deriving from the plural of the word bouzouki – Greek μπουζούκια), after the primary instrument involved. For sure, one would wonder how come the Greeks ended up calling the clubs that play a particular type of music with an instrument's name. Accidental fact? Not at all! Let's have a look at the history of Greek music and discover together the reasons that made Bouzoukia the main entertainment for Athenians. | Bouzouki Instrument |
---
Investigating the history of Bouzoukia, one could go back to the Ottoman Empire…BUT we do not mean to discourage you from reading. On the contrary we wish we could inspire some of the readers to research on Greek music and maybe go to bouzoukia, in case they find themselves in Athens.
So let's start with Rebetiko!

Rebetiko Musicians in 1930's


Rebetiko is arguably the original music of Athens. The roots of the music can be traced to the 1920's Piraeus hashish dens, populated mainly by immigrants who arrived in Greece from Asia Minor. The main instruments have been bouzouki and the smaller baglamas; the rhythm was tapped with hands, feet spoons on glasses or anything else on hand. The lyrics of rebetiko music often focused on drugs, humiliating police and prostitutes. After 1938 censorship forced the rebetes (rebetiko music songwriters & players) to change the themes of their songs. Some of the truest rebetes that have influenced with their songs Greek music are Vamvakaris, Batis, Artemis, Stratos, Tsitsanis.
Rebetiko soon became popular and some of the poor rebetes became stars. This, initially marginalized music genre, gave birth in the 1950's to "laiko tragoudi" (meaning popular/folk song ). To make things clearer this is more or less the same case with Western pop music, that can trace its origins to jazz, blues and soul. In the 50's and 60's laiko puts rembetiko aside and a new era in Greek music starts. Rebetes tend to accuse this new music genre as foreign and imported. Tsitsanis, a famous rebetiko performer, used to call laiko music as "indoarabic". This is partly true. The influence of oriental rhythms on this new Greek music has been strong. Nonetheless laiko conquered Greek music and Greeks, thanks to its vivid and happy rhythm.
And if Greek music history has tired you a bit, we'll provide you with some gossip:
Many consider Manolis Chiotis the father of the laiki Greek music. He has been a song writer and an incredible virtuoso of bouzouki. In 1953 in order to make bouzouki play quicker, he has put an extra pair of strings to it and created the modern, tetrachordo (with 4 strings ) bouzouki.


Manolis Chiotis –
a bouzouki virtuoso
---
In the 60's Greek economy – finally – starts flourishing. Living conditions for Greeks improve vastly, compared to the previous 50 years. Tired by wars, internal conflicts and poverty Greeks are looking for entertainment, celebration, fun and every night they go out in search for "Dolce vita". This need of Athenians has been impressed in the lyrics of a famous laiko song; "Μια ζωή την έχουμε, και αν δεν την γλεντήσουμε..." meaning "We have only one life, so we have to celebrate it…"

This is how & why bouzoukia are born. From the need of Athenians to let themselves go, nibble, drink and dance while listening to their favorite music live from their favorite artists.
---
As you have understood the nightclubs that play live Greek music are referred to as bouzoukia. To understand better the "philosophy" of Athens bouzoukia we have created a Questions & Answers section here:

Q: How many bouzoukia are there in Athens?
A: In Athens there are 50-60 bouzoukia – to this we do not include taverns & bars with live music. They are open from 5 to 7 days a week, depending on the popularity of the club. It is extraordinary that almost every day, or should I better say night, they are full. If you wish to go to bouzoukia during weekends, you should have reserved your table couple of days in advance. Reservations for Christmas, New Year's Eve and other special days are usually done a month in advance, as demand is high.

Q: At what time should I go to bouzoukia?
A: The show starts at midnight and ends when the sun rises. Very few after-bouzoukia may cloze at 8 or even 9 o clock in the morning, but this is an exception. At the beginning the show at bouzoukia is more like an introduction. After couple of hours and …couple of drinks, the atmosphere becomes more and more festive. And around 4 in the morning is when guests of bouzoukia reach the so called in Greek tsakir kefi, meaning the peak of the night's entertainment.

Q: Are bouzoukia open all year long?
A: No. But they are open almost all year. Particularly singers that perform at bouzoukia need to take breaks, so they work usually from November to March (winter season) and from April to July (summer season).
Each one of the bouzoukia-clubs has of course its own schedule and as a result you Athenians are able to go to one such nightclub at any time of the year.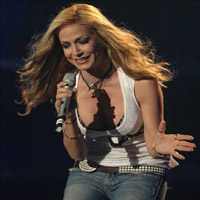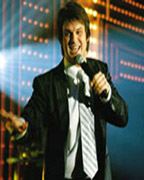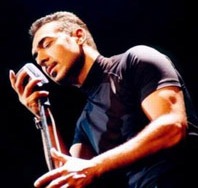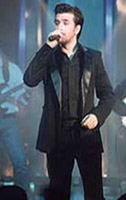 Modern Bouzoukia Queen & Kings: Anna Vissi, Panos Kiamos, Notis Sfakianakis, Thanos Petrelis

Q: Who sings at bouzoukia?
A: At bouzoukia today's stars take stage. The Greek singers that you listen on the radio, every night perform at bouzoukia. Their live performances are also their main source of income, as albums sales in Greece are low, due to the limited market & pirate cds.
Each bouzoukia-nightclub owner arranges collaboration with artists for the winter or summer season. The show at bouzoukia lasts from 5 – 8 hours, therefore each bouzoukia-nightclub has more than one singers for its show.
The famous Greek stars singers will be found at the big bouzoukia-nightclubs. To attract more Athenians bouzoukia owners try to book two or even three famous singers. As a result at bouzoukia guests entertain themselves by listening to their favourite stars.

Q: So, bouzoukia shows consist of 2 or 3 singers?
A: No. The famous singers are always accompanied by younger artists. These artists usually do not have their own albums. Therefore they are the ones who start the show at around 12 by singing Greek smash hits. The "main singers" take stage at around 2 and usually sing their own hits.
So, to answer to question a bouzoukia-nightclub may have from 6 to 15 (!!) different performers and dancers to entertain its guests.
See below the playbill of Skyladiko VIP bouzoukia, with its various artists





Giant advertising poster with the group of singers at Skyladiko VIP bouzoukia.
The singers positioned on the front are leading the show at this nightclub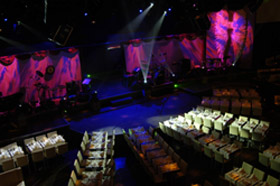 Q: How is the arrangement of bouzoukia-nightclubs? Are they concert halls?
A: Bouzoukia are not concert halls, nor do they resemble to clubs. There is an elevated stage on which there is the musicians – with the bouzoukia instruments of course-, dancers and singers perform. Moreover there is a court of elongated tables positioned at right angles to the stage so that every guest can see the spectacle. The corridors between the tables are rather narrow, so as to increase the capacity and have more tables for the guests (Greek techniques!). The customers and the waiters of bouzoukia have difficulties in moving around, due to the lack of space.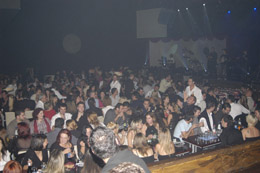 The tables that are attached to the stage are considered to be the best ones and are therefore the most expensive ones. For more information on proto trapezi pista, as these tables are referred to in Greek, read below at Bouzoukia Savoir Vivre.
Bouzoukia-nightclubs owners have also thought of those who do not want to spend a fortune (reserving a good table). They have therefore created bars for customers, who'll just pay an entrance free (ranging from15-20 Euro & including a drink). These bars are in the less privileged areas of the venue, away from the stage, and the customers have remain standing.



Q: I intend to reserve a table at bouzoukia. Can I eat there too?
A: At all "descent" bouzoukia there is a short menu, but it is rarely ordered. The prices are high and the quality is doubtful. It is strongly recommended that you have eaten beforehand. At bouzoukia alcohol beverages are mainly consumed. They are accompanied with assorted nuts and row vegetables. Bottles of water are also include in the rate.
---
The Greek bouzoukia "institution" is surrounded by many myths and inaccuracies. Let's discover the reality behind the myths: