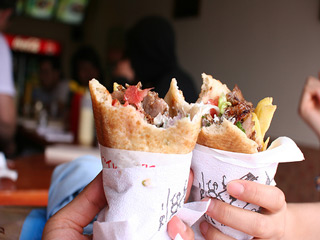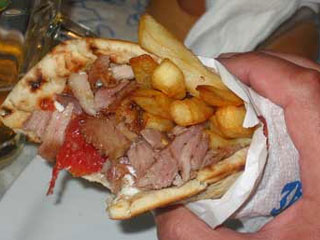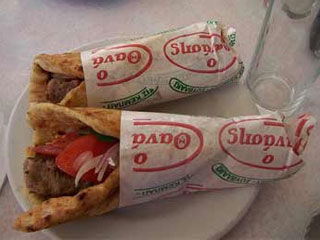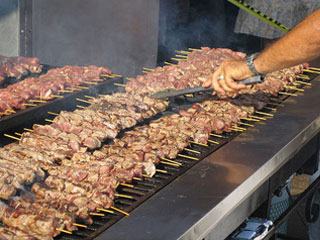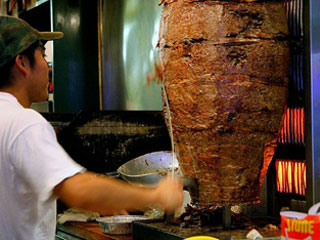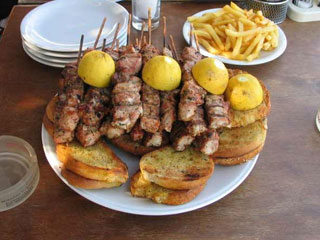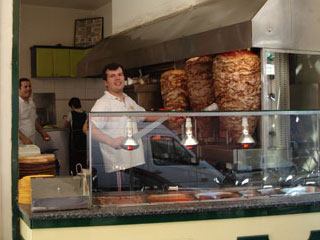 Feeling hungry after a night of partying? Satisfy your need the Greek way! Here are the best places to visit for your night munchies...
Patsatzidika-Athens all night restaurants
I sure that after reading this title it all seems Greek to you and that's what I'm here for, to answer all your questions! So let's start from the basic stuff.
What is a patsatzidiko?
It is basically a restaurant. Its main different from the other restaurants is that it stays open all night and it is mostly visited by people who go to eat after a night of partying and drinking. The word patsatzidiko comes from the word patsas, the main ingredient of the most popular soup to calm your stomach after such a night. It is mainly pork leg or stomach soup to which you add salt, pepper and a mixture of oil, vinegar and garlic called "skordostoubi" and although it may not seem as a delicacy to you now, it makes wonders for the hangover! Apart from that dish you can also choose other kinds of soups such as chicken soup or goat soup, also very popular.
Here are some of the best Patsatzidika in Athens!
Varvakeios Agora - Papandreou
There are many restaurants inside the stoa (a covered terrace) which unites Athinas street with Sofokleous street but one of the most popular is Papandreou operating since 1896. Don't be surprised if you see famous politicians, journalists or artists sitting next to you. The best time to get there is around five in the morning since this is the time that the people working in the meat market come to work creating a unique atmosphere.
Address: 1, Aristogeitonos street
Tel. No. 210 3214970
To Aftoforo
You will find it right opposite the courts of Areios Pagos in Alexandras avenue. It is quite popular and usually crowded. The soups offered are excellent!
Address: 152, Alexandras avenue
Zikos
This is one of the most famous patsatzidika in Athens and there is no Athenian who hasn't heard of it. It has been in operation for many years and it is located in Dafni, very close to the metro station and there are many regular guests there on a daily basis.
Address: Dafni Square
Salonikios
Salonikios is in Faliro in the southern suburbs of Athens since many of the clubs and bouzoukia are in Posidonos street by the sea. It is more crowded during the summer.
Address: Posidonos avenue, Faliro
Yiannis
With a view of the black and white photographs of great Greek cinema actors covering the biggest part of the wall you will have the opportunity to taste soups and veal or chicken dishes. It is mainly crowded on Friday and Saturday.
Address: 258, Acharnon street, Agios Nikolaos
Tel. No. 210 8657254
Vromika-Fat Food Stands
What is vromiko?
It is basically a sandwich. Vromiko means dirty in Greek but don't let its name mislead you… it is as tasty as it can be! It is souvlaki or a special hot-dog with a surprising sauce for curing hangover and satisfy hunger, in very low prices. Probably Greeks under the age of 40 will advice you to stop there before hitting the road to bed... There is usually a line so you may have to wait a while before you get any service but it's worth it.
Where is it served?
In cantinas located in certain places during the night and early morning. One of the most famous is in Vasilissis Sofias Avenue (Mavili Square) but there are others in Michalakopoulou street, in Vouliagmenis avenue in Argyroupoli, and several others found close to bouzoukia and night clubs.
Souvlaki
Kavouras
One of the best-known and guaranteed cheap all-day souvlaki joint open till sunrise. We highly recommend you to taste it! It's simply delicious!
Address: 64, Themistokleous street, Exarchia
Dionysos
There are several Dionysos "restaurants" in Athens open all day long and offering great souvlaki. The most known is the one in Dafni square close to the metro station. There you can sit down and rest for a while since there are tables and chairs. During winter it may be a bit chilly since its glass doors are always open.
Address: Dafni Square
Of course there are souvlaki restaurants all over Athens so don't be disappointed if none of the above is close to you.