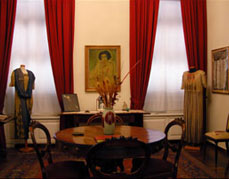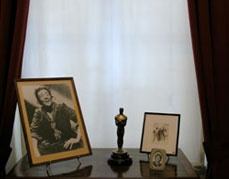 Museum of Katina Paxinou and Alexis Minotis
This small theatre museum is housed on the ground floor of the recently renovated Eynardos Mansion. The name of the building was chosen by its owner, the National Bank, in honour of the Swiss philhellene Jean Gabriel Eynard who contributed to the establishment of the bank in 1841. Temporary exhibitions and various cultural events are organized by the Educational Foundation of the National Bank in the other well-laid-out rooms of the building.
The museum's collection consists of furniture, paintings and sketches, photographs, books and personal effects of the great tragedian Katina Paxinou (1900-1973), which were left to the educational foundation by her companion, Alexis Minotis (1900-1990). One small room has been set up as Paxinou's dressing room.
The museum also owns the library and archive of Minotis, which inspired the creation of an important theatrical library in the centre of Ahens, opposite the National Theatre.
The Eynardos Mansion, 52 Menandrou and Agiou Konstantinou street, Omonoia square, Athens
Tel no. 210 5221420
Free entrance