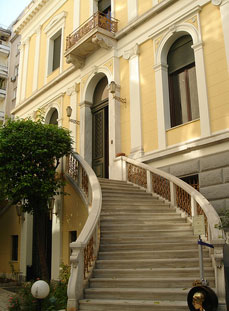 Numismatic Museum of Athens
The Athens Numismatic Museum is considered one of the world's five most important museums of its kind thanks to its collection of 600.000 coins. After long preparations, part of the collection has been housed in one of the most beautiful buildings in Athens since early 1999. Iliou Melathron or Palace of Ilion, built in a renaissance style with neoclassical elements by the German architect Ernst Ziller between 1870 and 1881, was first used as a residence by the gifted archaeologist, businessman and excavator of Troy, Heinrich Schliemann. The museum's offices are located in the south wing of the National Archaeological Museum.
The museum's 600,000 coins range chronologically from Greek antiquity through the Roman and Byzantine periods and the Middle Ages in Western Europe into Modern times. The collection also includes ancient coin hoards, excavation records, lead sealings, medallions and precious stones, either donated or bought by the museum itself.
The permanent display occupies the first floor of the Iliou Melathron, and will soon be extended to the second floor. It was designed so that any additions (cases, conventional and electronic explanatory material) are in harmony with the building's original architecture and decoration. The museum also contains a shop, a room for temporary exhibitions, a large library of about 12,000 volumes and a conservation laboratory.
The museum's main aim is for the public to become acquainted with the world of numismatics. It functions as a Special Regional Service of the Ministry of Culture and is also involved in the publication of books, and the organization of scientific conferences in collaboration with other museums and research centers in Greece and abroad. An important innovation is the creation of a virtual exhibition on the Internet in collaboration with the Department of Coins and Medallions of the British Museum.
12, Panepistimiou street, Athens
Tel no. 210 3643774
Daily, except Monday: 8:00-14:30