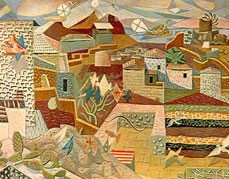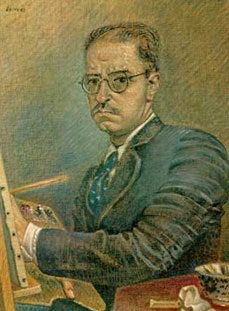 Nikos Chatzikyriakos-Ghikas Gallery
Nikos Chatzikyriakos-Ghikas is considered one of the most important Greek painters of the 20th century. His works figure in many private collections and in some of the world's top museums such as the Museum of Modern Art in Paris, the Tate Gallery in London and the New York Metropolitan Museum of Art.
From his first exhibition in Paris in 1923 until his death in 1994 at the age of 88, Ghikas worked unceasingly, leaving behind a vast oeuvre of paintings, sculptures and sketches, through which the evolution of art during the 20th century can be traced. Various works are displayed here, the oldest from 1930 and the most recent from 1990.
The gallery is housed in the apartment where the painter spent forty years of his life, and includes representative works from each period. It should be noted that the painter himself selected the works and saw to their arrangement, which has remained unchanged since his death.
In the ample rooms of the apartment are some of the artist's best known oil paintings, as well as water colors, pencil and sepia drawings, sketches of theatrical costumes, models of stage sets, many small bronze sculptures inspired by Greek mythology, manuscripts and books illustrated by him. In one corner is the working area of the great artist.
The furniture decorating the apartment comes from the family house of Ghikas in Hydra.
Other areas in the building host temporary exhibitions on specific aspects of the painter's work, such as his sketches or works inspired by ancient Greek art.
Anyone interested in these temporary exhibitions and in the educational programs organized by the gallery should contact the Benaki museum, which owns it.
At the entrance is a small shop selling cards, posters, silk-screen prints and books written and illustrated by the painter, as well as books about him and his work.
3, Kriezotou street, Syntagma square, Athens
Tel no. 210 3626266
Daily, except Tuesday and Sunday: 10:00-14:00