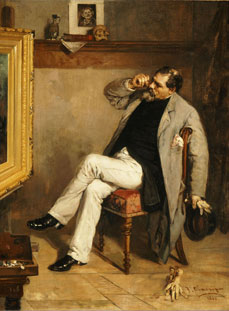 National Gallery - Alexandros Soutzos Museum
The National Gallery was founded in 1900 with the painter Georgios Iakovidis as its first director. The initial core of the collection comprised 177 works amasses at the National Polytechnic School in 1878, to which was added the collection of 107 works donated by the jurist Alexandros Soutzos. It was he who bequeathed his property to the state for the erection of a museum of painting.
After a long search for a permanent home, the foundations of the new building, designed by Pavlos Mylonas and Dimitris Fatouros, were laid in 1964, and it opened its doors 12 years later.
Because the gallery's collection had increased considerably through donations and purchases, not to mention the wide collection of works which it was lent from the Evripidis Koutlidis foundation, it was decided some time ago to expand the building, the work being assigned to the original architects.
After being closed for so many years , the restored areas given over to the permanent exhibition of part of the gallery's large collection were opened to the public in December 2000.
1, Michalakopoulou and 50,
Vassileos Konstantinou street, Athens
Tel no. 210 7235857