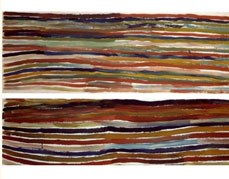 National Center for Modern Art
The National Center for Modern Art was inaugurated with a temporary exhibition on Yiannis Tsarouchis in February 2000, which was held in part of the former FIX industrial complex. This is the factory originally designed by the architect Takis Zenetos and recently reconstructed as part of the Athens metro project.
The 1200 sqm area occupied by the exhibition was the first part of the 9000 sqm building to be completed. Although it is eventually to house the activities of the National Centre of Modern Art, it will be temporary home of the National Museum of Modern Art, for which a building is currently under construction in Paleo Faliro.
FIX industrial complex, Sygrou avenue
Tel no. 210 9212576, 210 9212577