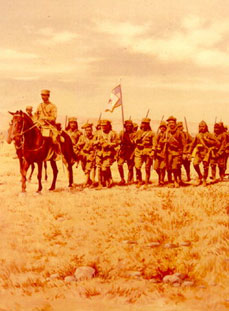 Museum of Asia Minor Relics
The collection of the museum of Asia Minor relics encompasses various objects brought by the refugees after the ravage of their properties and their expulsion from Turkey.
It includes photographs and the death mask of Eleftherios Venizelos, a carpet bearing his image, engravings of various cities before the catastrophe, an axe of the irregular Turkish troops of Tseti, a plaster bust of the national martyr, Chrysostomos of Smyrna, along with his cross and mitre, a large oriental brazier, hand-written gospels in Armenian, medals and jewellery. Finally, there is a model of the bell-tower at the church of Agia Fotini in Smyrna, an exact copy of which was built in 1998 at the church of the same name in Nea Smyrni, thanks to the sponsorship of the Onassis Foundation.
There is also an important collection of traditional costumes, including representative examples of embroidery from Cappadocia, Sylevria, Ikonio and Smyrna, and bridal dresses, one of which comes from Constantinople and is embroidered with gold thread.
Hall of Nea Smyrni, Chrysostomou Smyrnis Square, Nea Smyrni
Tel no. 210 9333702
Thursday and Sunday: 11:00-13:00
Free entrance