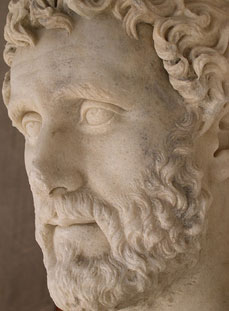 Museum of the Ancient Agora of Athens
The museum is housed in the stoa (a long colonnaded building) erected by Attalus II, king of Pergamum in the 2nd century BC, and reconstructed by the American School of Classical Studies in 1956. The museum' s collection, one of the most important in Athens, encompasses finds related to the social and political life on the site of Agora. This was effective centre of the city for thirty – six centuries, from 3000 BC, the date of the oldest know finds discovered in wells of the Neolithic era, until the 6th century AD, when Justinian closed the School of Philosophy and the Agora was deserted.
The Stoa of Attalus, which was something akin to a shopping center, was faithfully reconstructed according to accurate descriptions by travelers, and using the same materials as those that remained at some points. The finds displayed in cases along the length of the building are arranged in chronological order.
Inside the museum you will have the opportunity to enjoy finds of the Neolithic era (3000 BC), Bronze Age (1400 BC) and Geometric period (9th – 7th century BC), vases, statues and sculptures.
Stoa of Attalus, Ancient Agora, Athens
Tel no. 210 3210185
Daily, except Monday