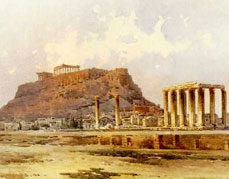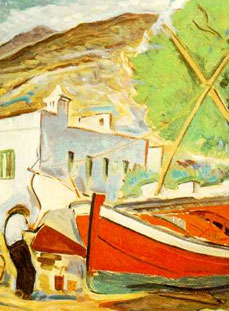 Municipal Art Gallery
The gallery's rich and important collection, comprising some 2500 works, has been exhibited periodically since 1982 in the old neoclassical Foundlings Hospital established by Queen Olga in 1874.
Almost all the artists who contributed to the shaping of Neohellenic art in the 19th and 20th century are represented in a collection of major works that enable visitors to understand Greek art's long history of inquiry, upheaval and achievement since the 1821 War of Independence.
The fascinating journey starts with Nikolaos Xydias and Spyridon Prosalentis from the Ionian islands, continues with the exponents of the Munich school, Georgios Iakovidis and Spyridon Vikatos, passing on to the reformer of Neohellenic painting Konstantinos Parthenis and the impressionists Georgios Prokopiou, Georgios Roilos, Theofrastos Triantafylidis, Nikolaos Ottoneos, Thalia Flora-Karavia, Pavlos Mathiopoulos and Periklis Pantazis.
The generation of the painters of the late 19th century is also well represented in works by Nikolaos Lytras, Georgios Gounaropoulos and Georgios Bouzianis, as is the Generation of the Thirties, responsible for some of the masterpieces of Greek art. Here are paintings by Photis Kontoglou - including sketches of the large compositions on display in the town hall on Athinas street – Spyros Papaloukas, Aginor Asteriades, Polykleitos Regos, Nikos Chatzikyriakos-Ghikas, Nikos Egonopoulos, Gerasimos Steris and Yiannis Moralis.
The next generation, that of the post-war artists, is represented by early works of Yiannis Spyropoulos, Yiannis Gaitis, Georgios Vakirtzis, Alekos Fasianos, Chronis Botsoglou and Opy Zouni. The most recent generation of modern artists born between 1955 and 1965 is covered by representative works of fory painters.
The Gallery's collection of engravings is equally remarkable, featuring examples of the pioneers of this art in Greece: Lykourgos Kogevinas and Dimitrios Gianoukakis, the two great masters Yiannis Kefalinos and Costas Gramatopoulos and their finest pupils, including Tassos Alevizos and Vasso Katraki. Examples of works by new artists can also be seen here.
The Gallery's sculpture collection is not as rich and representative as its paintings and engravings. Nonetheless, it includes some fine works by artists such as Michalis Tobros, Thanassis Apartis, Georgios Phytalis and Iason Papademetriou.
An art library run by the municipality of Athens also operates in the gallery.
51, Pireos street, Koumoundourou square, Athens
Tel no. 210 3243022
Daily except Saturday and Sunday afternoon: 09:00-13:00, 17:00-20:30
Free entrance