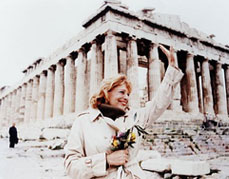 Melina Merkouri Cultural Center
The centre belongs to the Municipality of Athens and is housed in a restored building that was once the Poulopoulou hat factory in Thissio.
The majority of the available space is given over to temporary exhibitions and concerts, book launches and cultural seminars.
Part of the first floor room has been set up as an Athenian neighborhood of the early 20th century. It comprises large wall paintings, a small outdoor cafe, cases and shop-windows with original products from those times, dummies wearing original costumes and the interior of an urban house.
After thorough research, the space was meticulously created in collaboration with the Hellenic Literary and Historical Archive, so as to faithfully represent Athens before World War II, and make visitors nostalgic for an era long gone.
66, Heraklidon and Thessalonikis street, Thisio, Athens
Tel no. 210 3452150
Daily, except Monday and Sunday afternoon: 09:00-13:00 and 17:00-21:00
Free entrance