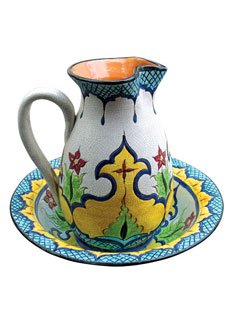 Vassilis Kyriazopoulos Ceramic Collection
The collection of traditional pottery is an annexe to the Greek Folk Art Museum and is housed in the best known mosque in Athens, which was built in 1759 by the voivode (local governor) of Athens, Tsistarakis. The 500 or so ceramic objects on display are representative examples of Greek pottery during the first two decades of the 20th century and were collected by the professor of climatology, Vassilis Kyriazopoulos, from all over Greece.
This unique collection comprises a host of decorative and practical pieces including dishes, vases, washbasins, candlesticks, figurines, moneyboxes, jugs, storage jars, and even earthenware musical instruments such as the toubeleki (a kind of oblong drum). It is divided into two sections.
The first is on the ground floor, and consists chiefly of works by renowned artists such as Minas Avramidis and Makarios Vardaxis from Kutahya in Asia Minor, Nikolaos Giasiranis from Rhodes, Nikolaos Theodorou and Dimitris Mygdalinos.
The second section is in the attic which was added to the mosque during its restoration by Anastasios Orlandos in 1915. It encompasses practical ceramics by unknown artists, classified by geographical area so as to highlight local particularities with respect to techniques and use of color.
1, Areos street, Monastiraki, Athens
Tel no. 210 3242066
Daily, except Tuesday: 09:00-14:30
Sunday free entrance