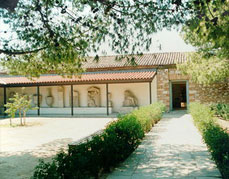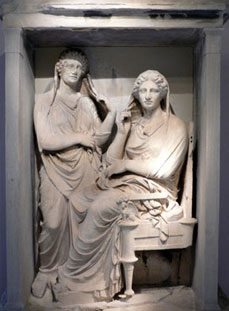 Kerameikos Museum
Kerameikos Museum, which is located to the left entrance of the archaeological site of Ceramicus (today' s Kerameikos), was built in 1937, thanks to a donation from German industrialist Gustav Oberlander and was expanded in the sixties. It houses the finds from the excavations carried out after its construction. The first pieces were transferred to the National Archaeological Museum, where they are still kept.
The exhibits of this small but important museum enable visitors to trance not only the evolution of an entire branch of ancient Greek art, namely funerary monuments, but also development of ancient Attic pottery from the 11th century BC until the first centuries after the birth of Christ and the Roman conquest. Due to the lack of written evidence about life in Athens during its early years, these two categories of finds constitute unique witnesses to the cultural activities of its inhabitants.
The chronological display of finds starts in the numbered cases to the right of the entrance in room II of the museum. Visitors can reach it directly from the main entrance, by passing room I with the funerary monuments.
Room II contains some superb examples of important ancient pottery, ranging in dates from 12th to the 7th century BC.
The cases in room III display elaborate black – and red – figure vases dating back to the 7th, 6th and 5th century BC.
Room IV deals with exhibits ranging in dates from the Classical era to the first sack of Athens by the Roman Sulla in 86 BC and the plundering of the city by the Goths(Heruls) of northern Germany in AD 267.
In the roofed atrium outside the museum have been placed a row of grave steles, marble funerary lecythi and the fragment of a mosaic with two lions from the dining-room of the Pompeion, the finest monument of Ceramicus, which was chiefly used for the preparation of the Panathenaic festival in the 4rth century BC.
148, Ermou street, Athens
Tel no. 210 3463552
Daily, except Monday: 8:30-14:30 Tuesday: closed