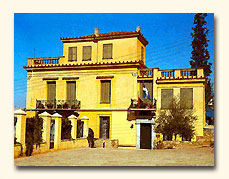 Kanellopoulos Museum
The collection of Pavlos and Alexandra Kanellopoulos has been housed since 1976 in an imposing neoclassical building of the late 19th century to the north of the Acropolis. This important collection of objets d'art covers almost every period of artistic creation in Greece, from prehistoric times until the modern era. It is no exaggeration to claim that it is an ark of Greek civilization over the centuries.
Visitors tired of noisy and overcrowded spaces, or with insufficient time to visit Athens' most important museums, will find this one the ideal solution.
The museum exhibits findings from the Neolithic era, statues, figurines, tools, wine jugs, marble Cycladic figurines, prehistoric Cypriot vases, Minoan terracotta heads, bronze daggers, seals made with semi-precious stones, Mycenaean vases, swords, feeding bottles, spears, geometric figures and so many more items that will impress you.
Theorias and Panos street, Plaka
Daily, except Monday: 8:30 – 15:00