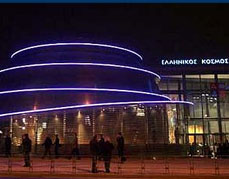 Hellenic Cosmos Cultural Center
The Hellenic Cosmos Cultural Centre belongs to the Foundation of the Hellenic World, which was established by the family of Lazaros Efremoglou with a view to preserving the historical memory of Hellenism and to disseminating its significance in the evolution of world civilization.
It is housed in a 35000 sqm industrial complex from 1940 on Pireos street, which was originally designed by the architect Solonas Kydoniatis and has recently been restored.
The building which is the first of the restored complex, extends over an area of 2000 sqm, and has exhibition areas, a fully equipped room for screenings and events and the Cyber Hall. This is in essence a state-of-the-art Internet cafe where visitors can use PCs to view the multimedia presentations of the foundation and its CD Roms, or to surf around other web sites of interest.
254, Pireos street, Tavros
Tel no. 210 4835300
Monday, Tuesday and Thursday: 09:00-18:00
Wednesday and Friday: 09:00-21:00
Saturday and Sunday: 11:00-15:00