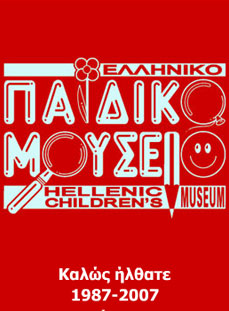 Hellenic Children's Museum
The Hellenic Children's Museum was founded in 1987 on an initiative by Sofia Rock-Melas. Since the end of 1994, it has been housed in an early-20th-century neoclassical building in Plaka.
The core philosophy of the museum lies in the belief that real objects, direct experience and play all aid the learning process. The multifaceted education and entertainment offered to young visitors is a significant test towards familiarizing them with the notion of the museum.
In the spirit of modern children's museums, the exhibits, which are everyday objects, works by children and works of art, are presented in themed sections.
Children can dress up as dentists to find out how to take care of their teeth; explore the giant computer and use real computers; convert useless materials into useful ones in the Recycling center; participate in the chocolate manufacturing chain in the factory; dress up as metro workers to find out what goes on at a worksite; do simple geometry exercises with Pythagoras; and enter the attic to find out what their great grandfather used to wear and what their great grandmother used to cook a hundred years ago. They can also become familiar with the magical world of art and on the premises there is also a rich library, posters, maps and audio-visual material.
14, Kydathinaion street, Plaka, Athens
Tel no. 210 3312995-6
Daily, except Monday: 10:00-14:00
Free entrance