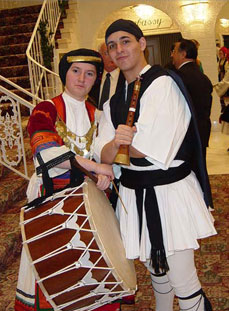 The Greek Folk School Museum of Greek Costume History
The museum is a branch of the Greek Folk School (Lykeio Ellinidon), and was inaugurated in 1988 by the late Melina Merkouri, the minister of culture at the time. It is housed in a two-floor building from 1920 constructed by the civil engineer Ilias Oikonomou for his personal use.
Only a small part of the museum's collection, which comprises some 25000 items- chiefly authentic local costumes and jewellery – is displayed at anyone time in themed exhibitions in a small area on the ground floor. Most of the exhibitions, which last one year and usually start in autumn, display traditional costumes from a specific region or ethnological group. In this way, a more complete presentation is achieved than would be the case if there were a permanent exhibition of costumes from all over Greece.
The museum's collection also encompasses twenty-three porcelain dummies that belonged to queen Olga. They are dressed in traditional Greek costumes. In addition, the museum hosts the National Archive of Traditional Greek Costumes and a library specializing in clothing-related subjects.
There is also a shop, which sells various books on folk culture and calendars published by the school, which double as a list of the Museum's exhibitions. Conducted tours are organized for groups and school classes by prior arrangement.
7, Demokritou street, Kolonaki, Athens
Tel no. 210 3629513
Monday, Wednesday, Friday: 10:00-13:00
Thursday: 17:30-20:00
Saturday and Sunday closed
Free entrance