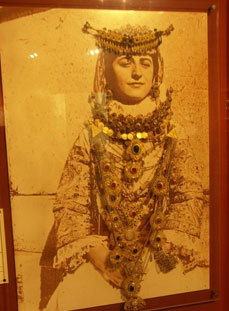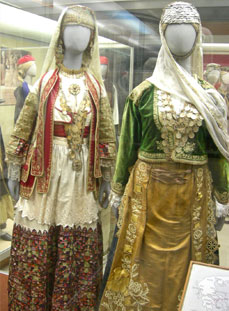 Greek Folk Art Museum
The museum's rich collection consists of artifacts and relics reflecting the resurgent artistic feeling that flowered among the subjugated Greeks under the more relaxed government of the declining Ottoman empire. These are objects created by a spontaneous art rooted in the local community: primarily a private pursuit in a period that did not favor external displays. The majority of the exhibits date from the 18th, 19th and 20th century.
The needlework exhibited on the ground floor constitutes one of the finest branches of traditional Greek art. Particularly impressive are the elaborately embroidered bridal bedspreads made of colorful silk thread, depicting symbolic and narrative scenes in the dominant colors of blue, red and green.
On the mezzanine there is only a small collection of pottery from Skyros and Canakkale in north-west Turkey, since the museum's large holding of pottery, the Vasilis Kyriazopoulos collection, is exhibited in a mosque opposite the metro station at Monastiraki. The next case to the right is devoted to metalwork and woodcarving.
The case devoted to traditional feasts displays five complete costumes worn by revelers to disguise themselves during five feasts held at Nikissiani (Kavala), Kali Vrysi (Drama), Sokho (Thessaloniki), Naoussa and Skyros.
The temporary exhibitions room is the largest space on the first floor. The entire second floor is devoted to the craft of the silversmith, this ancient form of art in which the Greeks excelled. The museum's vast array of weapons includes long-barrel flint-guns, pistols, cartridge belts for gun-powder, Cretan knives, curved knives and yataghans, all intricately decorated with birds, animals, flags, flowers and various other folk elements, such as Christian symbols and depictions of saints.
The pieces of women's jewellery worn with festival and especially bridal costumes include diadems, necklaces, earrings, headbands, brooches, pins and belts, originating from the different centres where craft guilds for silversmiths developed. Explanatory panels on all the known techniques of silversmithery accompany the exhibits.
The third and last floor of the museum is dedicated to traditional costumes. The exhibits are chiefly bridal and festival costumes –although there are some everyday clothes here- and almost every corner of Greece is represented.
The Greek folk art museum organizes many educational programs for school pupils of all ages, creative workshops, pottery lessons and shadow theatre performances.
17, Kydathinaion street, Plaka, Athens
Tel no. 210 3229031
Daily, except Monday: 10:00-14:00
Sunday: Free entrance