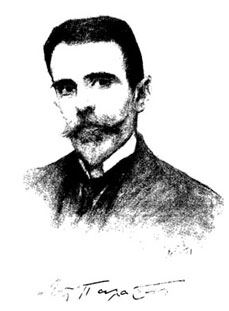 Costis Palamas Foundation
The small museum belonging to the Costis Palamas Foundation is housed in an apartment of the tower block that replaced the old neoclassical building where the poet spent 35 years of his life. It is located to the right of his statue at the junction of Asklipiou and Akadimias street.
In effect, the museum consists of one room containing his desk, some personal effects, part of his library as well as some busts and photographs of him.
The poet's archive is also housed and conserved here, comprising manuscripts, his correspondence and photographs. In addition, there is a small general library and a reading-room.
The Foundation makes available journals with articles on the work of this great Greek poet and publications by the foundation itself, including translations of his poems into various languages.
School visits can take place only by prior arrangement.
3, Asklipiou street, Athens
Daily, except Saturday and Sunday: 10:00-14:00
Free entrance