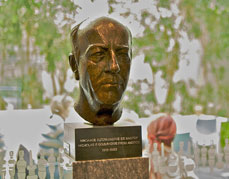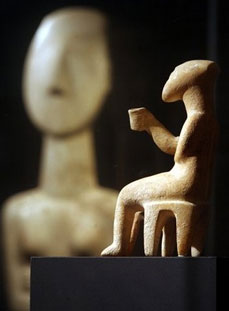 Goulandris Museum of Cycladic and Ancient Greek Art Nicholas P. Goulandris Foundation
The museum' s collection has been housed since 1986 in its own building, designed by architect Yannis Vikelas. In addition, since 1991 one of the finest neoclassical buildings in the centre of Athens has been granted to the museum, at the junction of Vasilissis Sofias Avenue and Herodotou Street. The Stathatos Mansion, as it called, was build by the great German architect Ernst Ziller (1837 - 1923), and is connected to the main building of the museum by the glass corridor.
On the ground floor of the building is a shop selling replicas of the exhibits, a number of art books and publications by the museum. At the back, fountain with a mosaic, is a cafe offering fruit juices, cakes, salads and light meals.
On the fourth floor is the Karolos Politis Collection, which complements the ancient Greek art held on the second floor, and is considered one of the best private collections in Greece.
It comprises some 120 pieces covering twenty centuries of Greek art, from the Mycenaean figurines of the 14th century BC to the early Christian lamps of the 6th century AD.
The third floor of the museum is given over to temporary exhibitions in the summer, while lectures, meetings and seminars of a cultural nature are organized each year from October to March.
The exhibits in the significant collection of ancient Greek art displayed on the second floor of the museum.
On the first floor is one of the world' s most important collections of Cycladic art.
4, Neofytou Douka street, Kolonaki
Tel. no. 210 7228321-3
Monday, Wednesday, Thursday, Friday: 10:00-16:00,
Saturday: 10:00-15:00,
Sunday and Tuesday: closed.