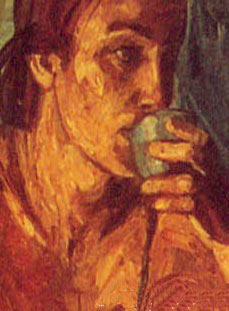 Frissiras Museum
The Frissiras Museum opened in December 2000 in two restored neighbouring neoclassical buildings in Plaka, to house the collection of its founder, the lawyer Vlassis Frissiras.
Some 200 of the collection's works have initially been displayed in the beautifully laid-out areas of both buildings. The full collection comprises around 2000 works of painting and sculpture, and 1000 sketches by Greek and foreign artists dating from 1920 to the late-20th century.
It is anticipated that the entire collection will be exhibited over the next four or five years, by rotating the works displayed in the first building. In the second building, where temporary exhibitions will be organized, a special area has been set aside for literary, theatrical and musical events.
Among the Greek artists represented in this important collection of modern art figure Yiannis Moralis, Panayiotis Tetsis, Diamantis Diamantopoulos, Costas Tsoklis, Chronis Botsoglou, Edward Sakayan, Stephanos Daskalakis and George Lappas.
From foreign artists there are works by Andrea Martinelli, Stephen Chambers, Clive Smith, Stephen Conroy, Peter Blake, Jean Rustin, Pat Andrea, Leonardo Cremonini, Eduardo Arroyo, Paula Rego and Frank Auerbach.
3 and 7, Monis Asteriou street, Plaka, Athens
Tel no. 210 3234678
Wednesday, Thursday, Friday: 11:00-20:00
Saturday, Sunday: 10:00-15:00
Monday and Tuesday closed