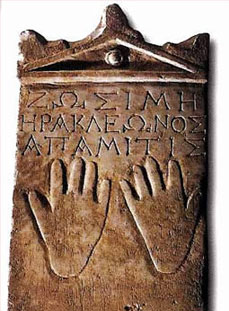 Epigraphic Museum
The Epigraphic Museum occupies part of the building housing the National Archaeological Museum, but has a separate entrance on Tositsa street. It is the world's largest museum of its kind and it is unique in Greece. It safeguards 13,510, mostly Greek, inscriptions, which cover the period from early historical times to the Late Roman period, primarily in Greece.
It comprises an internal and external courtyard, a lobby, eleven rooms, a large hypostyle Pi-shaped corridor, a gallery, offices, a laboratory for the conservation of inscribed stone monuments and lavatories. Only the courtyards, lobby and four rooms are open to the public; the other premises are accessible only to researchers and staff.
The purpose of the museum, which is a Special Regional Service of the Ministry of Culture, is to safeguard, protect, conserve, display and promote the epigraphical collections that it contains. The museum also aims to comprise photographic and impression archives and a specialized epigraphy library. Moreover, a digital catalogue of the inscriptions is currently under construction, so that the collection can be accessible digitally to future visitors.
1, Tositsa street, Athens
Tel no. 210 8217637
Daily, except Monday: 8:30-14:30
Free entrance