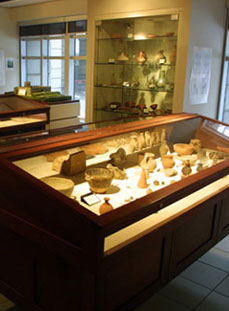 Department of Educational Programmes of the Directorate of Prehistoric and Classical Antiquities of the Ministry of Culture
The offices of the Department of Educational Programmes (DEP) and its exhibition areas are housed in Plaka, in a beautiful early-20th century building at the foot of the sacred rock of the Acropolis.
As part of its aim to raise the awareness of the public and, in particular, young people on the protection of cultural heritage, the DEP organizes educational exhibitions and programmes on archaeological subjects in cooperation with bodies responsible for antiquities, archaeological museums, local government and the Archaeological Receipts Fund.
Since 1997, an exhibition on ancient tragedy has been houses in the DEP building. This sheds light on the role played by the theatre in shaping the socio-political consciousness of the Athenians in the 5th century BC.
The three rooms occupied by the exhibition contain objects related to the operation of both the theatre and democracy.
The permanent educational programmes organized by the DEP at archaeological sites and museums in the centre of Athens include one entitled: "The public life of Athenian citizens" presented in the ancient agora, and focusing on the function of democracy in Athens in the 5th century.
9, Prytaneio street, Plaka, Athens
Tel no. 210 3251787
Free entrance