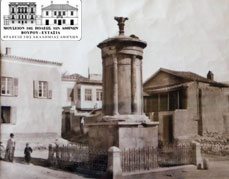 City of Athens Museum
The Athens City Museum presents the newest Athenian history, this ancient and glorious European city since it was declared the capital city of Greece and after its first kings, Othonas and Amalia.
Your tour will also include facts from Athens' culture and life style. Several collections and typical lounges of the upper class of the 19th and the 20th century, will complete your view of the city.
5-7, Paparigopoulou str., Klafthmonos sq.
Tel. No.: 210 3231397, 210 3230168, 210 3246164