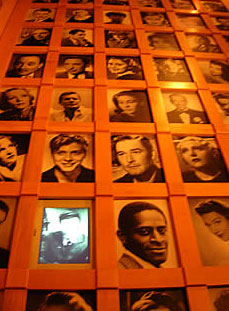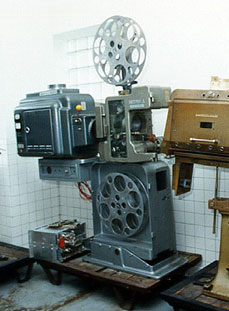 The Aglaia Mitropoulou Cinema Museum
The Aglaia Mitropoulou Cinema Museum is part of the Greek Film Archive. Since 1950, when it was founded, the Archive has been the sole body responsible for the restoration, preservation and promotion of the domestic and international film heritage in Greece. Named after the founder of the Film Archive, the museum is housed in one of the most beautiful neoclassical buildings in the center of Athens. It was designed by the German architect Ernst Ziller, built in 1860, and initially served as the office and residence of Epaminondas Deligiorgis, Prime Minister of Greece on six occasions between 1865 and 1877.
Due to damage caused by a fire in 1997 and an earthquake in 1999, only a few of the treasures owned by the Film Archive are on display on the ground floor.
The first of four sections of exhibits concerns prehistoric times, and man's earliest efforts to record and reproduce movement. A wealth of material covers the shadow games and wall paintings created by cave men, as well as games with flickering flames.
The second section consists of inventions used from the 17th to the late 19th century to reproduce movement. They include magic lanterns, zoetropes, phenakistoscopes, praxinoscopes and gyroscopes.
The third section of exhibits, which relates to the dawn of cinema, features the first attempts at taking photographs, light beams, photographic lenses, cinema film and its capabilities, as well as the first footage by the Lumiere brothers, the French inventors of cinema.
Finally, the richest section covers the mature period of cinema, and includes cameras and projectors dating from 1910 to 1970; labs for developing films, printing machines, machines for recording sound, editing suites and a wide array of tools used in the different stages of creating a film.
The forthcoming transfer of the Film Archive to the old "Lais" cinema at the junction of Megalou Alexandrou street and Iera Odos street at Metaxourgio, which is a listed building, will enable the exhibition of more of the museum's collection and part of its rich archives. The latter comprise some 4000 copies of Greek and foreign films, 900 documentaries, 5000 posters for Greek films, 20000 photographs, 2000 videotapes, 100 scripts and finally, costumes and sets from Greek films.
The rich and extremely interesting collection of films in the Archive is a valuable source of information for a wide variety of researchers to make use of in their work. They can either be projected or shown on video in a special viewing area.
The Film Archive also organizes educational programs for pupils and student of all ages. Their aim is to inform children and young people about film art and make them familiar with the magic of cinema.
1, Kanari street, Kolonaki, Athens
Tel no. 210 3612046
Daily except Saturday and Sunday: 09:30-13:30
Free entrance