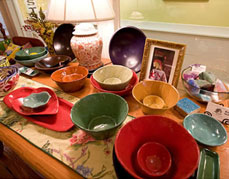 Study Centre for Contemporary Ceramics Psaropoulos Foundation
The study centre was founded in 1987 with a remit to research, preserve and promote the production of traditional Greek ceramics for practical use. Since 1999, the majority of its activities have taken place in a beautiful neoclassical building in Kerameikos, restored by the Ministry of Culture. Its collection, comprising 4500 vases and tools from all over the country, has remained at the center's old building (8, Hepitou street) in Plaka.
The building was officially inaugurated on May 18, 2000, which has been established as International Museum Day by the International Council of Museums.
Under the Ministry of Culture's cultural education network the Centre has set up a network of 28 schools all over Greece. Their pupils study various aspects of their region's folk culture in terms of ceramics.
4-6, Melidoni street, Kerameikos, Athens
Tel no. 210 3318491-6
Free entrance