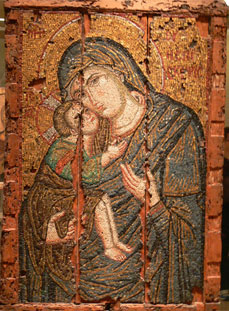 Byzantine Museum of Athens
The Byzantine Museum of Athens was founded in 1914 and since 1930 has occupied the villa Ilissia designed by the architect Stamatis Kleanthes for the French philhellene Sophie de Marbois-Lebrun, the Duchess de Plaisance (1785-1854) and originally begun in 1840.
It is one of the most beautiful buildings in the centre of Athens, built on the banks of the Ilissos river (which is no longer visible), and strongly reminiscent of a Renaissance-style villa in Tuscany. However, due to the restricted space of this historic building and the constant acquisition of new exhibits, either through donations or purchases by the museum itself, its expansion became a necessity. The 12600 square-meter basement extension, which was begun in 1993 and was designed by the architect Manos Perakis, will display a large number of the approximately 15000 objects that make up the museum's collection, which is considered one of the greatest in the world. There are plans to link the completion of the expansion project with the creation of a single Archaeological Park that will include Aristotle's Lyceum, which was recently discovered and is now being excavated, and a small outdoor amphitheatre.
Until this work has been completed, only the villa can be visited, where a limited number of exquisite exhibits are displayed, and part of the new extension, which is currently used for temporary exhibitions.
22, Vasilissis Sofias avenue, Athens
Tel no. 210 7211027, 210 7232178
Daily, except Monday: 08:30-15:00