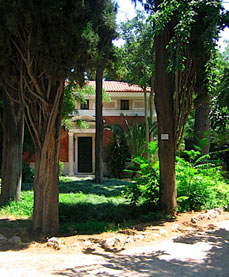 Botanical Museum of the National Garden
The museum of the National Garden has been operating since1984 in a neoclassical building close to the Parliament, which was used as a shooting box during the reign of king Otto.
On the ground floor is exhibited a classified collection of dried foliage from some of the 520 varieties that have been planted in the garden. With the exception of some 100 plants native to Greece, these varieties come from all over the world. In the same area, specially arranged case containing texts, drawings and photographs outline the history of the National Garden from its creation in 1839 as the palace garden of the first king of Greece (the palace is now the parliament), up to the present.
Finally, on the first floor of the building can be seen a wide array of decorative plants and a set of watercolors of plants painted by the botanist P. Kantartzis in 1856.
1, Vasilissis Amalias avenue, Athens
Tel no. 210 7215019
Daily, except Monday: 09:00 – 14:30
Free entrance