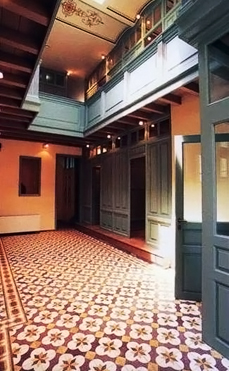 Bathhouse of the Winds
The Turkish Bath of Abid Efentis, referred to for the first time in 1667 by the Turkish traveler Evlia Tselebi, is the only public bath in Athens still in existence. It operated for over three hundred years from its foundation in the first years of the Turkish domination, until 1965, when it was transferred to the Ministry of Culture. The Ministry saw to its restoration and then transferred it to the Greek Folk Art Museum to be converted into a museum of bodily cleanliness and to house a centre for the study and documentation of public bathhouses in the Balkans and Near East, which is soon to be founded.
The principal bathing areas with the domes are the most interesting parts of the building, which has largely kept its original form. Small glass holes allowing the light to penetrate have been opened in the domes. At some points the floor is also made of glass, allowing visitors to see the lower level where hot air circulated through a network of earthenware pipes, heating up the floor and walls.
The museum's permanent exhibition will include copperplates with scenes from the life in public bathhouses, explanatory panels, and information on ancient, Roman, Byzantine and Turkish bathhouses in Greece. Areas have also been set aside for a shop on the ground floor and a cafe on the building's terrace.
8, Kyrristou street, Plaka, Athens
Tel no. 210 3229031