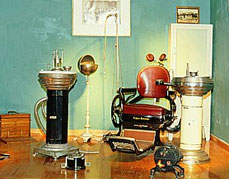 University of Athens Museum
The University of Athens Museum is housed in one of the few remaining buildings of the Ottoman period and no one can actually say when it was built. The building was owned by the two architects who developed the first Athens plans, Stamatis Kleanthis and Eduard Schaubert.
It has been opened for the public since 1987 and exhibits rare editions of scientific studies and books, newspapers and documents, pamphlets, magazines and letters, stamps and even portraits created by Greek painters during the 19th century. In the museum you will also find scientific instruments that are related to chemistry, medicine, physics etc.
The museum of the University of Athens hosts international meetings, seminars and lectures, all organized by the Athenian University.
5, Tholou str., Plaka
Tel. No.: 210 3240861