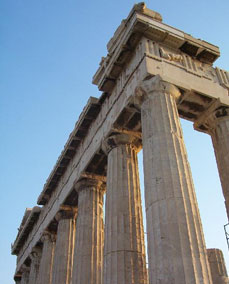 Acropolis Study Center
The Acropolis Study Centre is housed in a building designed by the German architect Wilhelm von Weiler. Construction began in 1834, and it initially housed a military hospital and, later on in 1930, a Regiment of Gendarmerie. Finally, it was assigned to the Archaeological Service and was inaugurated as a study centre in 1987 by the late Minister for Culture, Melina Merkouri.
Two large rooms on the ground floor house plaster – casts of the composition on the eastern and western pediments of the Parthenon, the plaster casts of the temple' s metopes and frieze as well as one of the two marble acroteria of the temple.
The museum displays a series of casts depicting successive uses of the rock of the Acropolis from prehistoric Neolithic times to the 18th century. There are also a series of original terracotta architectural remains from the building that stood on the sacred rock in the Archaic and Classical period, and parts of the sculpted acroteria and lion – headed terracotta water- spouts of these building.
2-4, Makriyianni street, Athens
Tel no. 210 9239381