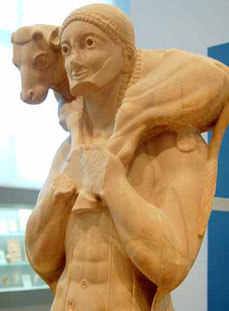 Acropolis Museum
It is a museum visited by many people everyday and it exhibits all of the portable objects removed from the Acropolis since 1834 with the exception of a few bronzes displayed in the National Archeological Museum and inscriptions which are found in the Epigraphical Museum.
The museum's collection includes ancient statues that were used in religious ceremonies and artifacts primarily religious in nature which provide a visual history of Greek religion. In addition there are items such as offerings from the Archaic Temple of Athena, parts of the famous Parthenon frieze with Greek gods such as Poseidon, Apollo, Artemis, Aphrodite and Eros and the original Caryatids salvaged from the Erechtheion Temple. The statues that you see at the site of the Acropolis when you visit it are replicas of the original statues.
This small museum is scheduled to close when the New Acropolis Museum opens since all the exhibits will be moved there, at the foot of the Acropolis.
Dionyssiou Areopagitou, Athens
(southeast corner of the Acropolis site)
Tel no. 210 3236665
April - October daily 8:00-19:30
November - March Monday 10:00 - 15:00, Tuesday - Sunday 8:30-15:00