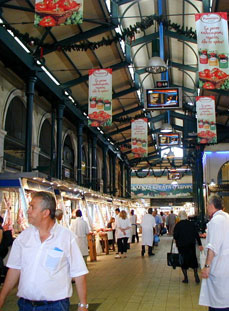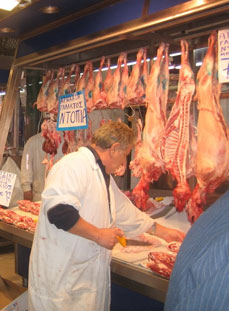 Varvakeios Agora - The Central Market of Athens
On either side of Athinas street is the Central or Municipal Market of Athens (Kentriki Agora or Dimotiki Agora Athinon). It and the surrounding commercial area are called the Varvakeios Agora as well. On the left side of Athinas str., in the low and less-well constructed annexe, is the open-air vegetable and fruit market (Lachanagora) on the two sides, and a part of the fish market on the front. Across the street to the right is the more formal, well-built market building with a huge, high-ceiling central hall flanked on each side and the rear by smaller ones with lower ceilings. This building was recently restored.
The shops facing Athinas street sell nuts and dried fruit or dried fish. The main hall is filled with fresh (and some frozen) fish stalls (Psaragora). Whatever the sea offers, you can find it here! For those challenged by the sight and smells of all manner of cuts of meat hanging from the butchers' shops in the Meat Market (Kreatagora) section (in the rear, right and left halls), this is not the place for them. This is a real slice from traditional Greek daily life, beginning in the early hours of the morning and lasting until the late afternoon. In this very crowded, very noisy, fragrant and lively place, one can find almost any basic source of protein, foodstuff or exotic item that one's heart desires, all in plain sight and not packaged to death. Here, the people-watching among the endless aisles filled with sellers and customers, is unsurpassed.
The many small traditional eating places (oinomagereia) in the right-hand hall Monday through Saturday offer tasty and typical Athenian food washed down with some pungent Mesogeion retsina from a barrel. This is life!
The complex was built between 1876 and 1886, with loannis Koumelis as the architect. This replaced the rabbit warren of wooden sheds inside the ruins of the Library of Hadrian (see Peripatos 2, 3) that served as the main market place until it burnt down, on 9 August 1884.
The appellation Varvakeios comes from the fact that the Varvakes Lykeion (or Varvakeion) stood from 1857 to 1956 in the square to the left, next to Sokratous str., where there is a grubby park and underground parking garage today. Psarianos loannis Varvakis, a wealthy merchant from Epeiros, gave the money for a school for talented boys in 1824. Between 1856 and 1859 the school was built in a very austere Neoclassical style by the architect Panayiotis Kalkos. He was the most classic of the architects working in Greece. The equiva lent school for girls was the Arsakeion. The Varvakeion was gutted by fire during the Dekembriana in late 1944. The building was torn down in early 1956.