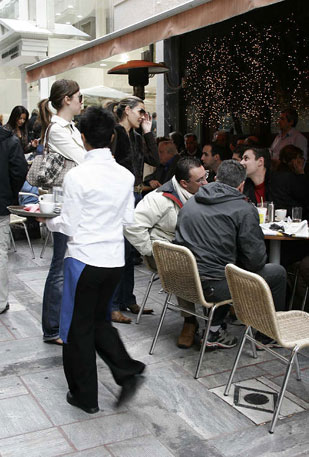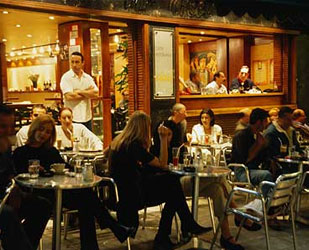 Athens Kolonaki District
Kolonaki square, this tree-shaded, rectangular square officially named Society of the Friends Square (Plateia Filikis Etaireias), a name rarely used, is dominated by a large presence of pigeons around its uninspiring central fountain. However, it will soon change face, as it is now completely reconstructed. Its official name refers to the crypto-revolutionary secret Society founded in Odessa, Russia in 1814, by Greeks Nikolaos Skoufas, Emmanuelle Xanthos, Athanasios Tsakaloff and Panayiotis Anagnostopoulos, to promote the liberation of the Greek homeland from the Ottoman Rule. The streets leading out from the square to the northwest and nearby, are named after the founding members of the society. The popular name Kolonaki square derives from the small marble column standing at the southweste part. This inner city residential and shopping district is thus named after the square's nickname.
There are three sculptures in the park: a herm-like bust of a revolutionary from the Dodecanese islands; a bust of Panagiotis Anagnostopoulos; a semi-abstract composition in brass entitled Epinikio (victory celebration) of a headless one-winged goddess Nike, playing a mandolin by the talented modern Greek sculptor G. Georgiades. The premises of the British Council in Athens are located on the square's south side.
Kolonaki square marks the focus of the upscale inner city neighborhood of Athens on the lower, southwestern slopes of Lycabetus hill. The stylish cafes, intimate small restaurants, numerous chic bars, vibrant galleries, trendy furniture and home furnishing stores, fascinating antiques shops and seemingly endless clothing and shoe boutiques catering for every taste and age, overwhelm one on the streets which radiate from the square. If you like to shop until you drop, here is heaven on earth!
This is people watching nirvana as well. Can you spot the glamorous actress? The TV personality? The national politician? The famous singer? The shipping magnate? This is a popular place for the smaller foreign embassies as well. Such economic, social and cultural activities also mean that this is where people who don't want to live in the boring, distant, shady northern suburbs and have the economic resources to afford the impressive prices for a luxury condo with a view of the Acropolis or the steep rent for a spacious apartment on the upper slopes of Lycabettus hill choose to live. As legal parking in this district is virtually non-existent walking on the side walks can be a challenge.