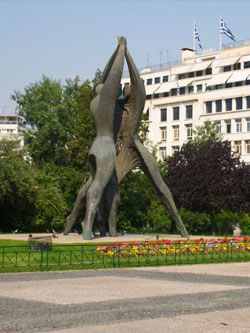 Athens Klafthmonos Square
Klafthmonos square is the center of what is called the Historical Center of Athens. In the center of the square once stood the Mint, which was designed by Christian Hansen in 1835. Before its demolition in 1939, on order of C. Kotzias this building housed as well the Ministry of Finance. The name of the square (derived from an ancient Greek word, means weeping) originated in 1878 when Demetrios Kambouroglou called it the Garden of Klafthmonos. He did this humorously, as the Mint was the gathering place for those individuals who, after an election in which the opposition won, were now former civil servants. Here they moaned their fate with fellow victims.
This densely built up district has, besides many governmental, municipal and utility offices, innumerable banks, large and small stores (especially for electrical appliances and lighting), fast food establishments and small eateries, as well as commercial shops of all variety. As few people call this district their home, it is mostly deserted after normal business hours. In the square is an impressionistic monumental bronze sculptural group of three intertwined figures (1988) by Vasilis Doropoulos symbolizing National Reconciliation. During the construction of the parking garage under the square a section, now buried, of the Themistoclean wall was discovered running through this part of the square. The square is used frequently for political rallies, public demonstrations and open-air concerts.