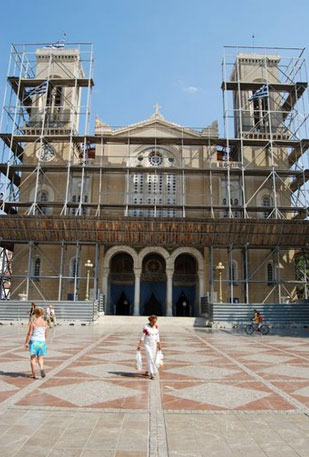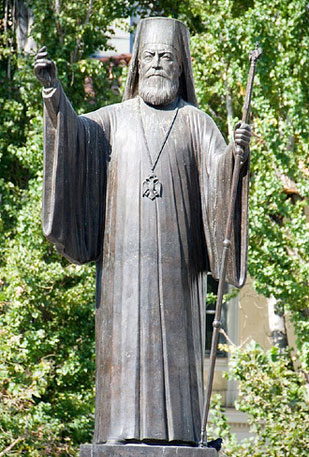 The Greek Orthodox Cathedral of Athens
The Cathedral (Mitropolis) dominates the spacious, marble paved Mitropoleos (Cathedral) Square (Plateia Mitropoleos). Building began in 1840 and the cornerstone was laid on 25 December 1842 by King Othon and Queen Amalia. Stones from 72 demolished Byzantine period churches were used in the construction. It was dedicated officially on 21st May 1862, by the King and Queen to the Annunciation of the Virgin (Evangelismos Theotokou). Four different architects designed parts of it: Theophilus Hansen, Franz Boulanger, Dimitrios Zezos and Panagiotis Kalkos. It is the largest modern church in Athens: 40 m x 20 m x 24 m (ht). The interior wall paintings were executed by S. Yalinas and A. M. Seitz. The mosaics on the front are modern. Inside are the tombs of two martyrs of the Ottoman period:
Saint Philothei' s bones who died in 1589 are in a silver reliquary. She was the daughter of a wealthy family who ransomed Greek women enslaved in Turkish harems. The location of her convent is nearby Gregory V (Patriarch of Constantinople), who was hanged and his body was thrown into the Vosporos in 1821 after the War of Independence started. His body was rescued by Greek sailors and taken to Odessa. In 1871 his bones were brought to Athens by Pontiac Greeks.
This is the seat of the Bishop of Athens, who is also the Archbishop of the Greek Orthodox Church in most parts of Greece. The cathedral is used for state ceremonial affairs such as the funerals of major politicians and the rich and famous. Before the abolition of the monarchy in 1973, royal weddings and baptisms were held here. It is open daily 07:00- 19:00.
In the middle of the marble-paved square is an over life-sized bronze statue of the controversial Archbishop Damaskinos (18911949), who was pro-German during the occupation of his country and died, it is alleged, under questionable circumstances. Beyond, in the trees in front of the wall of a building, is a large, plain white marble stele with an inscribed dedication to Constantine XI Palaeologos, the last Byzantine emperor. An over life-sized gilded bronze statue of him in full imperial regalia stands in the square near the Cathedral and the church of the Virgin Mary. There is a folk myth that, as his body was never found after the sack of Constantinople (modern Istanbul) by the Turks in 1453, he is, in fact, still alive but in suspended animation in the form of a marble statue (Marmaromenos Vasilias). When the time will come finally for Greeks to regain control of Constantinople, he will come back to life to rule again over the resuscitated Byzantine empire. The restored late 19th century Neoclassical buildings in this section of Mitropoleos street are fine examples of the Athenian tradition of combining a commercial establishment on the ground floor with the house of the merchant on the floors of above.