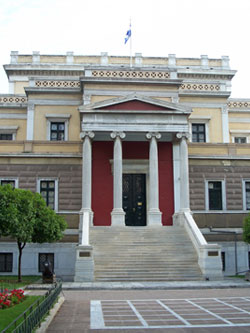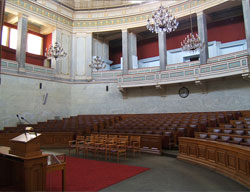 Athens National Historical Museum-The Old Parliament
This imposing Neoclassical building is on the site of a large house erected in 1834 by the wealthy merchant Kontostavlos. The newly established Greek government bought the mansion in 1837 to serve as the official residence of King Othon and Queen Amalia, while the two houses on Paparrigopoulou street were under renovation. From March 1844 the Parliament assembled here. After this mansion burnt down in October 1854, the French architect Franz Boulanger undertook the task of designing a new building specifically for the Parliament. This took place between 1858 and 1875. The creation of a unicameral body meant that the interior had to be redesigned while the construction was in process. The Doric-style central facade is reached by a high stairway. The Parliament met here until 1935, when it moved to the newly redesigned and renovated Old Palace on Syntagma Square. Subsequently, the Ministry of justice was located here until the building was converted into the National Historical Museum in 1962. Charilaos Trikoupis' principal political rival and three times prime minister Theodoros Deliyiannis, was assassinated on the steps of the Old Parliament in 1905. Deliyiannis was a populist demagogue who supported traditional values and pursued the irredentist policies of a Greater Greece. He opposed whatever Trikoupis championed. His marble statue (by sculptor Georgios Demetriadis) stands in front of the north side of the adjacent Benakeios Library. This building houses important administrative documents of the government, archives of Greek newspapers, many thousands of old books and archival material from the War of Independence.
The Museum's 16 rooms contain the eclectic collections of the Greek Historical and Ethnological Society, which was founded in 1882. They range in date from the fall of Constantinople (1453) through the Greek-Italian war of 1940, with emphasis on memorabilia from the War of Independence. The large, impressive chamber in the center of the building, where the Parliament met, is preserved. It is still used today for special lectures and meetings. The gift shop's collection of high quality reproductions of Byzantine and later jewelry is a little known treasure in Athens. Avoid the mass-produced tourist trinkets in the Plaka and come here for some beautiful earrings, necklaces and bracelets in sterling and gold-plated sterling silver!