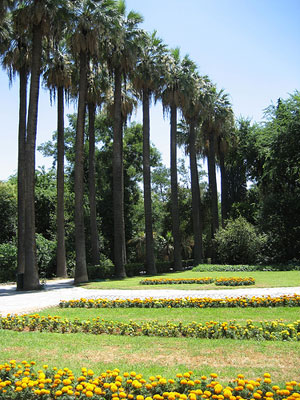 Athens National Garden
The densely planted National Garden of Athens is located next to the Greek Parliament in Syntagma Square. This large, shady and fenced refuge from Athenian reality is open daily from dawn till dusk. The quiet park covering 16 hectares serves as a botanical garden with native and rare subtropical trees and plants and the path crossing it divides it into 80 units of various shapes and sizes. The garden includes as well, many statues, a fish pond, a duck pond (popular with children of all ages), a small zoo with animals and birds, a botanical museum, toilet facilities, a children's library and a large playground for smaller children. This is a perfect and safe place to jog and the elegant café next door to the Zappeion is a pleasant place to relax after a walk around these charming, peaceful gardens.
The first plans of the garden were drawn in 1836 by Freidrich von Gaertner, the architect of the Royal Palace. In 1839 the garden was redesigned by the Bavarian engineer Hoch, for Queen Amalia, to serve the palace. It was called the Royal Garden. The landscaping started in 1839 with 15,000 plants brought from Genoa as well as from Sounion and the island of Euboea by a team led by the Bavarian horticulturalist Smarat. Later, the French horticulturalist Barrault from Constantinople completed the work. The cost of planting and maintaining this botanical garden was scandalous in the opinion of many contemporary Greeks. Over the years various storms and unusual cold spells have damaged or destroyed many of the plants and trees. Today there are approximately 7,000 trees and 40,000 plants. Before 1854 the gardens were closed to the public. Afterwards they were open to the public when not in use by the king and queen.
The Royal Garden was renamed the National Garden by decree in 1923.