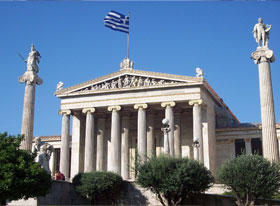 The Academy of Athens
OThis highly ornate classicizing building houses the pre-eminent institution of Greek learning and culture, the Academy of Athens (Akadimia Athinon). In 1859 Baron Simon G. Sinas provided the funds (3 million drachmas) for this building, which was designed by Theophilus Hansen, with a strong similarity to the parliament building in Vienna. At Hansen's request, Ernst Ziller came to Greece to oversee its construction and in the process Ziller modified the original design. Sinas (1810-1876) was from Epirus originally following in the footsteps of his grandfather, a wealthy and influential philanthropist from Vienna who gave generously to Athens. When King Othon was deposed in 1863, Sinas displayed his extreme displeasure with this turn of events by withdrawing his financial support for the construction. After Sinas died, his wife Iphigenia gave the money needed to complete the building, which happened finally in 1887.
The Academy's plan is like an uppercase "T" with serifs. The facade of the central main component is a Roman in hexastyle podium-style temple in the Ionic order, revetted in Pentelic marble. The frieze has paintings depicting Greek mythology, by Karl Rahl. The pediment and the pediments of the symmetrically flanking wings with tetrastyle in antis facades have sculptural compositions by the Greek sculptor Leonidas Drosis. In one of them is the Birth of Athena. These and the architectural moldings are accentuated with lively painted details, as was the case in ancient architecture. Drosis was also responsible as well for the statues of Apollo and of Athena on the tall Ionic columns and the seated representations of Plato and Aristotle which all flank the entrance. Baron Sinas' statue in the entrance hall is also by Drosis. The frescoes in the Conference Hall by Professor Griekenperi from Vienna, depict the Gigantomachia (a battle between the gods and the giants) on the front and scenes from the myth of Prometheus on the sides.
Every year the members of the Academy, the Immortals as they are called (Oi Athanatoi), give awards to outstanding Greek intellectuals and individuals who have made exceptional personal efforts for the greater good of Greece and its citizens.